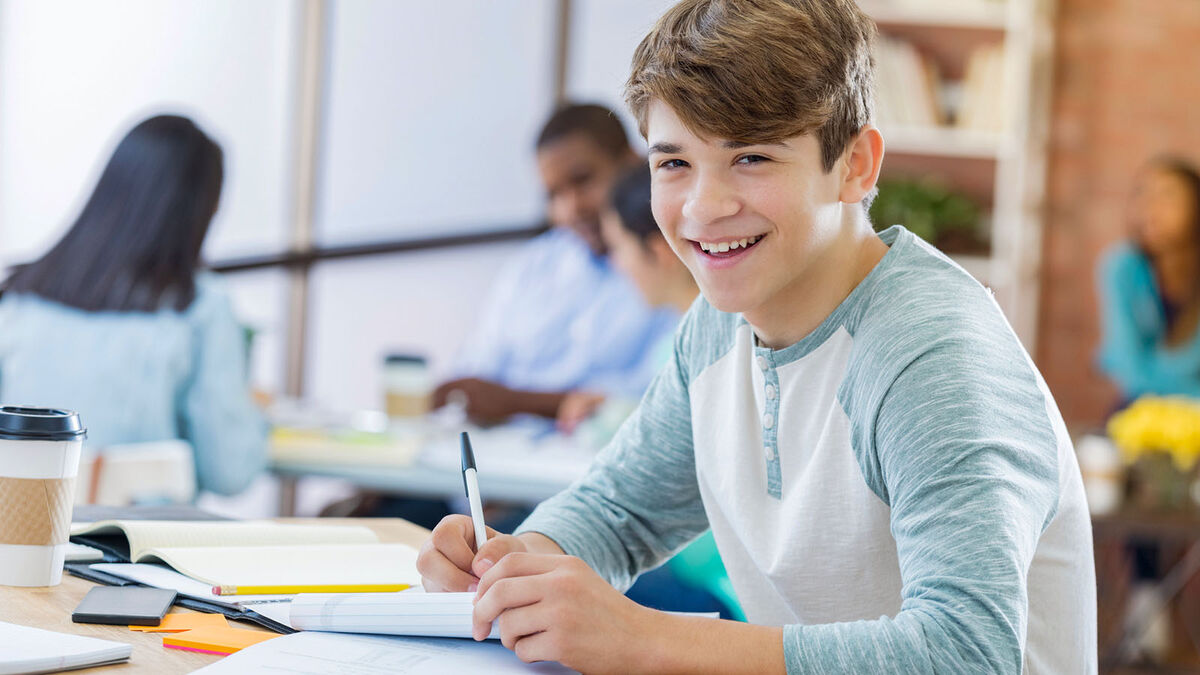 Although spelling is a subject most often associated with the elementary grades, high school level spelling words provide an opportunity for students to further develop their mastery of the English language. Present your 9th, 10th, 11th, and 12th graders with a spelling list to help develop their vocabulary and grammar skills.
Spelling Word Lists for High School Students
You can pull spelling words from vocabulary lists for high school courses or by grouping long, commonly misspelled words together.
Spelling words for ninth grade focus on words that break typical spelling rules, such as leaving the "e" at the end of a word then adding an ending such as "ing".
| | | | |
| --- | --- | --- | --- |
| absolve | balsamic | canoeing | dichotomy |
| egomaniacal | frugivorous | gregariously | histrionical |
| kinkajou | licensure | microcosm | nonillion |
| pearlescent | quasi | rhythmic | serviceable |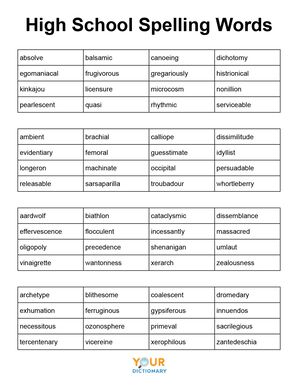 10th Grade Spelling Words
Tenth grade spelling words can incorporate advanced vocabulary words from musical instruments to science terms.
| | | | |
| --- | --- | --- | --- |
| ambient | brachial | calliope | dissimilitude |
| evidentiary | femoral | guesstimate | idyllist |
| longeron | machinate | occipital | persuadable |
| releasable | sarsaparilla | troubadour | whortleberry |
11th Grade Spelling Words
Spelling words for eleventh grade can include words with silent letters and words that start with difficult letters such as "x".
| | | | |
| --- | --- | --- | --- |
| aardwolf | biathlon | cataclysmic | dissemblance |
| effervescence | flocculent | incessantly | massacred |
| oligopoly | precedence | shenanigan | umlaut |
| vinaigrette | wantonness | xerarch | zealousness |
12th Grade Spelling Words
Importance of Spelling in High School
The English language is 85% phonetic, but 15% of all words are not phonetically spelled. Since the ability to spell correctly is needed to clearly articulate one's thoughts in writing, this means spelling lessons must remain an important part of the high school curriculum.
Spelling Tips for High School Students and Teachers
High school teachers who wish to promote better spelling skills can use creative means when developing classroom lesson plans.
Learn Why Spelling Is Important
High school students often believe that learning to spell correctly isn't an important skill, since most of their writing is done using word processing programs with spell check software.
Use these two articles to begin a discussion of how this philosophy can spell disaster:
Show How Spelling Errors Can Cost You a Job
Consider asking a local human resources manager to visit the class to discuss how spelling skills can influence whether an applicant is offered a particular job. Offering examples of actual spelling errors found in cover letters and resumes can be particularly informative.
Incorporate Spelling Lessons Into Other Subjects
Look for opportunities to incorporate spelling into other subjects, such as history, geography, chemistry, or biology. The goal is to have students see spelling as a part of daily learning instead of a separate subject that only needs to be practiced for a few hours each week
Link the study of high school level spelling words to new vocabulary by providing the definition of each word and having students practice using new words in their writing compositions.
Keep Track of Unfamiliar Words
Encourage students to keep a small notebook with lists of unfamiliar words they encounter in the magazines, newspapers, and books they read. Tailoring the study of spelling words to the student's unique interests is a great way to encourage the retention of new information.
Play Age Appropriate Spelling Games
Although spelling games are most often associated with younger students, many high school classes will enjoy these fun activities as well. "Around the World" is a basketball game that appeals to older students by letting them shoot baskets from several points around the free throw lane.
To play, divide students into two teams.
Before students are allowed to take a shot, they must spell one of their assigned words correctly. If they miss, they must stay in the same spot until they spell the word correctly.
After misspelling a word three times in a row, the student is out.
Continue until the winner is the only person left standing.
Spelling Practice Never Ends
Spelling is a skill people need to practice even as teens and adults. Learn some spelling study habits to help you master spelling even the most difficult English words.