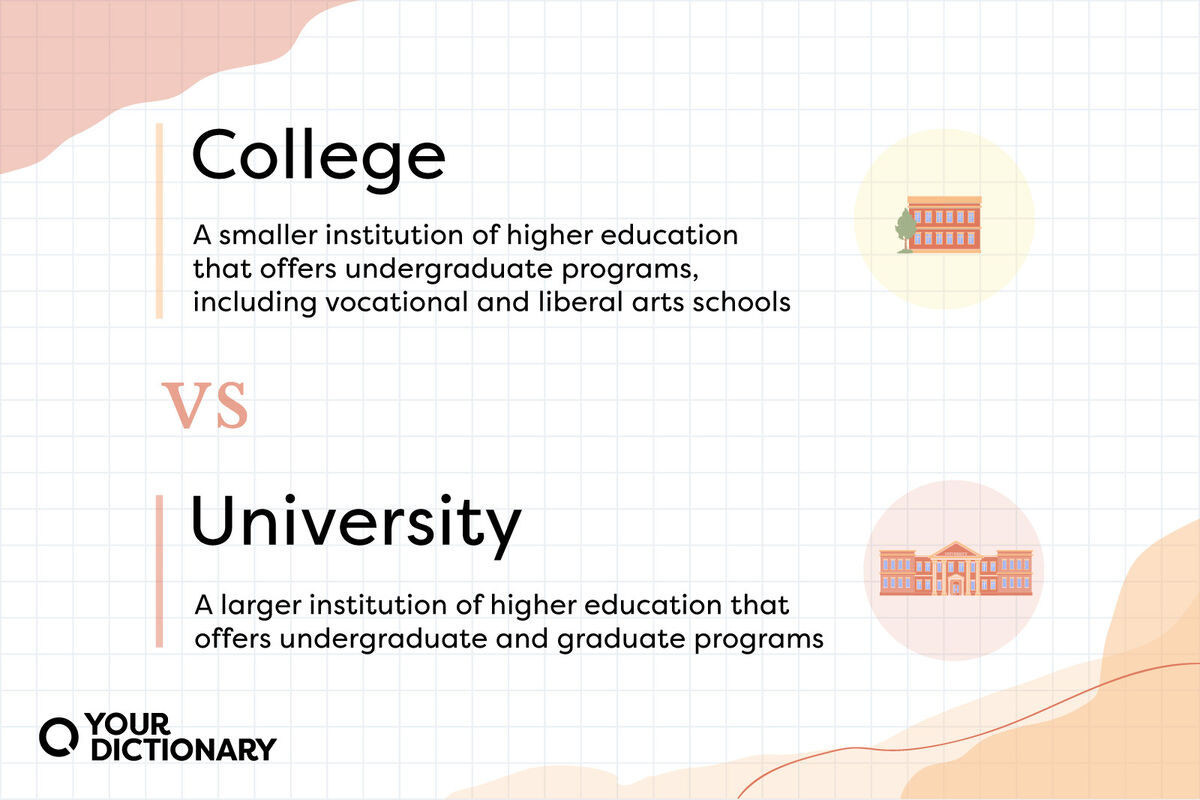 While a college and a university are both institutions for higher learning, it can be hard to understand their differences. Colleges are typically smaller institutions focused on undergraduate education, while universities are larger institutions with a vast array of undergraduate and graduate education options. The two words are used interchangeably in the United States, while other countries make a distinction between them.
Main Differences Between College and University
Along with their size, colleges and universities can vary based on their curricula, enrollment, admission costs, and more.
| | | |
| --- | --- | --- |
|   | College | University |
| Size | Often smaller student body with smaller, more-focused classes | Larger institution divided into separate colleges/schools |
| Types | Two-year, four-year, technical/vocational and liberal arts | Four-year with graduate programs |
| Degree type | Certificates, associate's and bachelor's | Bachelor's and graduate degrees |
| Curricula | Applied, career-oriented education and on-the-job training | Research and academia |
| Enrollment | Open enrollment | Selective enrollment |
| Admission | Typically less expensive | Typically more expensive |
You can generally think of college as a smaller institution of learning with a variety of undergraduate degrees. These degrees can cover a range of credentials from certificates to 4-year bachelor's degrees.
Two-year colleges are typically known as community or junior colleges. These institutions offer a diverse range of career-oriented, applied certificate and associate programs as well as transfer programs. An example of a community college is the Louisiana Delta Community College.
Liberal arts colleges are harder to distinguish from a university since they offer an array of undergraduate and graduate programs. These colleges typically have a diverse liberal arts tradition in their history. Williams College is a liberal arts college.
Liberal arts colleges still have smaller campuses and student bodies than universities, allowing for a more tight-knit, intimate experience while offering flexibility of curriculum.
Examples of Colleges in the U.S.
There are literally thousands of colleges in the country, and thanks to confusing naming conventions, some colleges have university in their names.
Reed College
Amherst College
Wellesley College
Willamette University
Washington and Lee University
Harvey Mudd College
In the grand scheme of things, a university is defined as a large institution with undergraduate and graduate programs. Universities offer diverse educational experiences from art to science. Many times, graduate programs focus on research within a university. That's not to say a college doesn't have research opportunities, they are just more widely known in a university.
Additionally, universities are typically broken down into different colleges or schools. For example, New York University (NYU) has a College of Dentistry and a College of Arts & Sciences. These are in addition to the Grossman School of Medicine.
Examples of Universities in the U.S.
For further confusion, some universities in the U.S. have college in their name. For example, Boston College is a university, but it can't change its name because Boston University already exists. The College of WIlliam and Mary in Virginia kept its name out of tradition.
Massachusetts Institute of Technology
Harvard University
University of California, Los Angeles (UCLA)
Dartmouth College
Give It the Old College Try
Choosing between college and university largely comes down to what you're looking for in higher education and what's available to you. If you want a more personal focus or tailored career training in your desired field, college might be more your style. If you want a research-focused environment or larger campus experience, a university may have more to offer.