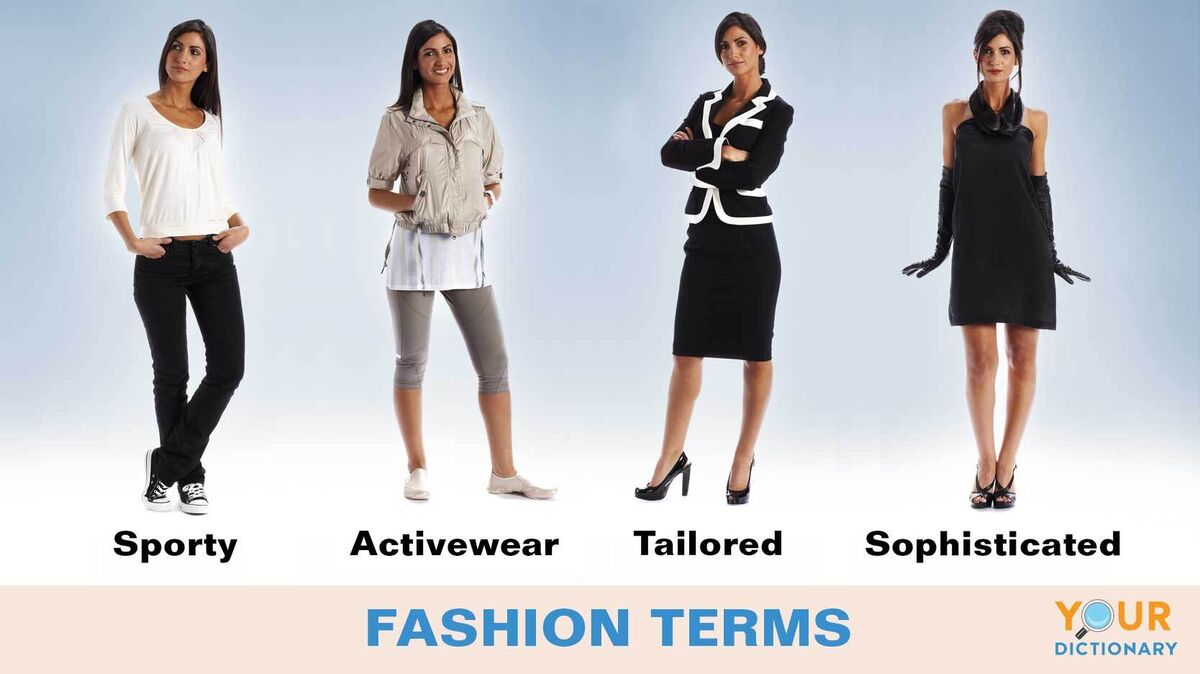 There's more to fashion than just picking out clothes that you like and wearing them. Whether you're writing about fashion or just looking for better ways to discuss the topic, boost your vocabulary by learning some fundamental fashion terms and words to describe style.
Terms for Different Types of Clothing
Fashion includes several types of clothing. This category encompasses the occasions for which apparel is designed as well as different categories of sizes.
activewear - Clothing designed to be worn during exercise or sports activities is referred to as activewear. Examples include yoga pants, basketball shorts, sweatshirts, tennis skirts, and other related items.
bespoke - The term bespoke refers to clothing that is custom-made for a particular person at that person's request. The pattern for creating the clothing item is made for the individual. The most common bespoke items are men's suits.
capsule wardrobe - A capsule wardrobe consists of specific clothing items designed to be worn together in a variety of different combinations to create different looks. When a brand produces mix and match pieces designed to be used interchangeably without having to add in other pieces, that is a capsule wardrobe.
corporate - Corporate apparel is designed to be worn in traditional business environments. It primarily includes suits and related separates designed to be worn as suits. Pieces tend to be designed in classic styles, with elements like label width and the cut of pants, skirts and jackets being adjusted to current fashion.
designer - In fashion terminology, designer clothing refers to pricy, ready-to-wear apparel with a designer brand name on the label. It is mass-produced for sale in retail stores or their online equivalent. These are typically quality or luxurious items that reflect the style of the day.
eveningwear - The term eveningwear describes apparel designed to be worn to nighttime formal occasions, such as cocktail parties, charity balls, evening weddings, and other such occasions. Tuxedos are common men's eveningwear. For women, eveningwear includes ball gowns or ornate tops paired with dressy palazzo pants.
haute couture - The French phrase haute couture translates to "high fashion" in English. This term is used to refer to very high-end exclusive fashions custom-fitted for the wearer. True haute couture pieces are handmade, one-of-a-kind pieces.
juniors - The word juniors is used for clothing designed for young girls who have outgrown children's sizes but are not yet ready for adult sizes. Juniors sizes are odd numbers (3, 5, 7 and on, stopping at 15). They are cut for figures that have not yet developed curves that are accounted for in misses sizes.
misses - Misses fashions are designed for adult women. Misses sizes are even numbers, typically ranging from size two to 16, though some lines include zero and 18. They are roomier in the bust and hips than juniors sizes, yet less so than women's sizes.
oversize - Garments that are supposed to fit extremely loosely are said to be oversized. Shawls and throws are often designed to be oversized, as are many t-shirts, muumuu style dresses and swimming suit coverups.
petites - Fashions that fall into the category of petites are designed for women who are 5'3" or below. They are sized similar to misses fashions but are proportionately altered to account for the smaller frame of women who are petite in stature.

reversible - Clothing that is designed to be worn with either side facing out is reversible. It's common for jackets to be reversible, often with water repellent fabric on one side and flannel on the others. Items in a capsule wardrobe collection are sometimes reversible as well, providing even more options to the wearer.
sportswear - The word sportswear is used to describe casual apparel that can be worn for any occasion where professional or formal attire is not required. It includes things like khaki pants, polo style shirts, button-down shirts, and other similar items.

vintage - True vintage clothing items are ones made in a previous era that are not yet antique. Vintage pieces are typically described as items between 20 and 99 years old. Sometimes new clothing is made in a vintage style, which means it reflects the look of apparel made during an earlier timeframe.
women's - Women's sizes are designed for women who need a more generous cut than misses sizes. They are typically designed with a "W" after the even-numbered size. Most women's lines start at 14W, though some start smaller. For example, women's retailer Lane Bryant generally carries sizes 10W through 32W.

Fashion Words to Describe Styles
There are many words to describe styles in the world of fashion. Some of these terms describe a particular style of clothing while others could be used to describe an individual's style of dress. Some can be used in both contexts.
androgynous - Clothing that is designed to be gender neutral reflects androgynous style. Apparel made in this style is not exclusively masculine or feminine in appearance.
boho - In fashion, boho style refers to a relaxed, free-flowing way of dressing. It includes long, flowing skirts or dresses and peasant-style blouses. The fabric of boho fashions is often beaded or embroidered.

classic - Fashions that can be described as classic are simple looks that stand the test of time regardless of fashion trends. Classic fashions are typically simply cut with a relatively tailored fit. Classic pieces are made with quality fabric in neutral colors, either solid or in understated patterns.

cruise wear - Sometimes referred to as resort wear, cruise wear consists of casual, beachy looking apparel appropriate for a cruise or tropical vacation. Hawaiian shirts, maxi dresses, slip-on sandals and other super-relaxed apparel falls into this style category.
eclectic -The term eclectic doesn't refer to a specific style of clothing, but rather to an individual who chooses to combine pieces from different styles together to create a unique look. Someone who pairs classic pieces with boho or glam items would be outfitted in an eclectic style.

edgy - Edgy fashion goes beyond the trends of the day to push the proverbial envelope of fashion. When mini skirts are on-trend, an edgy designer might produce micro-minis. When it's trendy to wear tights under short skirts, an edgy dresser might leave off the skirt and instead pair a long blouse with tights.
elegant - Fashion that can be described as elegant is graceful and understated. Flowing skirts, simply cut silk blouses and classic empire waist dresses are elegant. So are pearls. The way Jacqueline Kennedy Onassis dressed is a snapshot of what elegant fashion looks like.
fashion forward - Fashion styles that have not yet become popular but that are likely to do so in the near future are fashion forward. Influencers and trendsetters are often described as having fashion forward style, as their adoption of a way of dressing is often what propels a look to become trendy. Edgy looks are fashion forward.

glam - Fashion that can be described as glam tends to be flashy and adorned with lots of bling. Think velvet, sequins, sparkly beads, super low-cut necklines, plunging backs, and thigh-high stiletto boots to help visualize what glam looks like.

in vogue - Styles that are currently popular for people to wear can be described as in vogue. This term is used more for trendy items of clothing that may fall out of vogue just as quickly as they became in vogue, rather than classic apparel that is always in style.

on trend - Fashions that reflect the most current trends of the day can be described as on-trend. For example, 1980s fashion trends included legwarmers and torn sweatshirts, as a result of the popular movie Flashdance, as well as neon colors and super-short skirts.

preppy - The preppy style is an upscale yet casual look reflective of prep school attire. Preppy looks include chino style pants paired with penny loafers or boat shoes and tennis dresses paired with Keds tennis shoes and argyle socks.
punk - The punk style is reflective of music that bears the same name. It often includes distressed or torn/shredded jeans, leather jackets, clothing adorned or accessorized with studs or chains, and button-up shirts with the sleeves cut off.
sporty - The sporty fashion style is all about dressing simply with comfort in mind. It can include activewear or sportswear, as well as even more casual items (sundresses, cargo shorts, jeans, t-shirts, and similar).

tailored - Fashions that can be described as tailored are ones designed to be trim fitting. They fit snug to the body when properly fitted, so they're styled to fit very precisely. Achieving a truly tailored look can require alterations or even custom fitting.
relaxed - Relaxed fashions are the opposite of ones that are tailored. They are loose-fitting without being oversized. When properly fitted, relaxed items are roomy. They tend to drape a bit, or at least not cling tightly to the wearer's body in any way.
sophisticated - Fashions that can be described as sophisticated are upscale, high quality pieces that are feminine without being flowy or girly. They are also not blingy or overstated in any way. They are typically well-cut, form-fitting looks appropriate for a mature woman who wants to be taken seriously.
Fashion Design Terminology
Learning to properly use fundamental fashion design terminology can help you sound like an industry insider.
appliqué - An appliqué is a shape that is cut from a piece of fabric and attached to an item of clothing. For example, a boho blouse might be adorned with butterfly appliqués. Another option would be a denim jacket that has patches attached as appliqués.
asymmetrical - When a piece of apparel is designed so that the sides of the item are not cut the same, the item can be described as asymmetrical. A skirt that is longer in the back than the front is asymmetrical, as is a blouse that is shorter on one side than the other.
atelier - The French word atelier is used to describe the workshop, studio or other physical locations where designers create their concepts and bring them to life. Designers work in ateliers along with their assistants and other employees or contractors.
brand - A fashion brand refers to the name with which a particular line of clothing is labeled, such as Polo by Ralph Lauren, Chico's and Izod. Brand can refer to the actual brand name, as well as the logo used to visually represent the brand.
bugle beads - Tubular beads that are often sewn onto dressy clothing as embellishments are called bugle beads. Shimmery tops and ball gowns are typically adorned with a lot of bugle beads in metallic colors with an opalescent shimmer.
dart - A dart is a tuck sewn into a piece of clothing so that it will properly fit curvy parts of the body. Misses and women's fashions typically have darts at the bustline, for example. Darts are most common in tailored and fitted apparel styles.
dolman sleeve - A dolman sleeve is tightly fitted at the wrist but blouses out above the wrist. This is common on long-sleeve peasant-style topics, using elastic or a drawstring at the wrist to create this look. Elegant silk or chiffon blouses often feature dolman sleeves above tightly fitting button cuffs at the wrist.
embroidery - In fashion, the word embroidery is used to describe needlework that is added to a garment in order to embellish it. Embroidery can be done by hand or machine.
empire waist - A dress or blouse that has a fitted waistline that is placed directly below the bust has an empire waist. This type of waistline is typically shirred, with fabric blousing above it and billowing below it.
ensemble - In the world of fashion, an ensemble is a complete outfit. It includes all pieces of clothing and accessories used to complete a particular look. An ensemble is, in essence, what a person is wearing when he or she is fully dressed for an occasion, whether it's going to the office or the red carpet.

eponymous - The word eponymous refers to an item named for itself. When the brand name attached to a line of fashion is identical to the name of the original designer, that means the brand is eponymous. For example, Louis Vuitton is an eponymous brand, as well as the name of the designer himself.
fashion press - The segment of the news media that covers and reports on the fashion industry is referred to as the fashion press. Vogue and Women's Wear Daily (WWD) are examples of media outlets that can be described as examples of the fashion press.
gathers - Creating gathers when making a garment requires pulling fabric together with a row of stitches in such a way as to create flowing fullness in a garment. When the fabric is pulled together, it does so in a way that creates small folds that cause the fabric to drape below where the stitches are made.

hemline - The fashion term hemline refers to the bottom edge of a garment. It can describe how long or short an item is. For example, there are many different skirt lengths, from mini skirt to floor length. It can also refer to how a hem is finished or embellished, such as an uneven hemline or one trimmed with fringe.

off-the-rack - Clothing that is mass-produced for sale via retail stores is referred to as off-the-rack. These clothes are manufactured in standards sizes intended to be offered for sale to consumers for general purchase.
ready-to-wear - This term means the same thing as off-the-rack. Items in a designer's line that are mass-produced for sale in stores rather than being custom-fitted to clients are described as ready-to-wear.
sample - A piece of clothing made by a designer or fashion house to show to retailers as a way of letting them know what will be available in the current year's collection.
silhouette - In fashion terms, the word silhouette means the basic shape or outline of an item of clothing. For example, the term A-line can be used to describe the silhouette of a certain style of skirt. This style is fitted at the waist, but flares out in a straight line from the waist to the hem, resembling a capital A.
slipover - A slipover is a top or dress that is designed to be put on simply by pulling it over the wearer's head. This style does not include a functional zipper or buttons that have to be used in order to don the garment.
More Ways to Describe Appearance
These fashion terms can help you precisely describe the appearance of an item of clothing or how a person tends to dress. Review this list of descriptive terms for appearance to discover even more ways to describe what a person or object looks like.