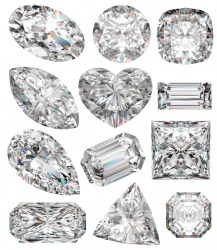 Diamonds of different shapes.
noun
The definition of a shape is a specific form, a particular condition, the outline of something you can see even when you cannot clearly make out what it is, or to a something cut out of paper.

An example of a shape is a square diamond.
An example of shape is a state of ill health.
An example of shape is when you see the shadow of a figure but can't make out who it is.
An example of shape is a circle cut out of construction paper.
verb
To shape is to mold something or someone.

An example of shape is when you mold clay.
An example of shape is when you set the design of a project.
An example of shape is when you influence a child's future.
---
shape
that quality of a thing which depends on the relative position of all points composing its outline or external surface; physical or spatial form
the form characteristic of a particular person or thing, or class of things
the contour of the body, exclusive of the face; figure
assumed or feigned appearance; guise: a foe in the shape of a friend
an imaginary or spectral form; phantom
something having a particular shape, used as a mold or basis for shaping or fashioning
any of the forms, structures, etc. in which a thing may exist: dangers of every shape
definite, regular, or suitable form; orderly arrangement: to begin to take shape

condition; state, esp. of health: a patient in poor shape
good physical condition: exercises that keep one in shape
Origin of shape
Middle English
schap
from Old English
(ge)sceap
, form, created thing, akin to
scieppan
, to create, form from Indo-European an unverified form
skeb-
, variant, variety of base an unverified form
(s)kep-
, to cut with a sharp tool from source shaft, shave
transitive verb
shaped

,

shap′ing
to give definite shape to; make, as by cutting or molding material
to arrange, fashion, express, or devise (a plan, answer, etc.) in definite form
to adapt or adjust: to shape one's plans to one's abilities
to direct or conduct (one's life, the course of events, etc.)

Obs.

to appoint or decree
Obs.

to become suited; conform

Rare

to happen

Informal

to take shape or form: often with into or up
shape up
Informal
to develop to a definite form, condition, etc.
to develop satisfactorily or favorably
to do what is expected of one; behave as required
take shape
to begin to have definite form, condition, etc.
SHAPE
Supreme Headquarters Allied Powers, Europe
---
shape
noun
a.

The characteristic surface configuration of a thing; an outline or contour:

a lake in the shape of an hourglass.

See Synonyms at

form

.

b. Spatial form, contour, or appearance: The sandy coastline is always changing shape.

a. The body or outward appearance of a person or an animal: saw two shapes walking toward her in the night.

b. The contour of a person's body; the figure: a swimmer with a slender shape.

a. A definite or distinctive form: Our discussion acquired the shape of an argument.

b. Form, condition, or embodiment: How is your research project taking shape?

c. A desirable form: a fabric that holds its shape.

a. Assumed or false appearance; guise: a god in the shape of a swan.

b. A ghostly form; a phantom: Shapes appeared in his bedroom at night.

Something, such as a mold or pattern, used to give or determine form.

a. The condition of something with regard to effectiveness, use, or appearance: What kind of shape is your car in?

b. Bodily condition, as in regard to muscle tone or endurance: She's in great shape after working out for six months.
transitive verb
shaped, shap·ing, shapes
To create or fashion, as:

a. To give a particular form to (a material): shape the dough into baguettes.

b. To create or configure, as from a material: a sculpture that was shaped out of ice.

To cause to conform to a particular form: a pool that is shaped like an hourglass; a bone that is shaped to bear weight.

a. To plan or devise: shape a new educational program.

b. To embody in a definite form: shaped a folk tale into an opera.

a. To influence in a formative way: experiences that shaped his identity.

b. To direct the course of: "He shaped history as well as being shaped by it" ( Robert J. Samuelson )
Phrasal Verbs:
shape into
To develop into a particular form or condition:
This is shaping into one of the biggest scandals of the century.
shape up
To turn out; develop:
This ski season is shaping up to be the best in years.
To improve one's performance or behavior so as to meet a standard:
Either shape up or ship out.
Origin of shape
Middle English
from
Old English
gesceap
a creation
Related Forms:
shap′a·ble shape′a·ble

adjective
---
shape

Verb
(third-person singular simple present shapes, present participle shaping, simple past shaped or (obsolete) shope, past participle shaped or shapen)
To give something a shape and definition.

Shape the dough into a pretzel.   For my art project, I plan to shape my clay lump into a bowl.

To form or manipulate something into a certain shape.
(of a country, person, etc) To give influence to.
To suit; to be adjusted or conformable.
Origin
From Middle English shap, schape, from Old English Ä¡esceap ("shape, form, created being, creature, creation, dispensation, fate, condition, sex, gender, genitalia"), from Proto-Germanic *ga- + *skapÄ… ("shape, nature, condition"), from Proto-Indo-European *(s)kep- ("to split, cut"). Cognate with Middle Dutch schap ("form"), Middle High German geschaf ("creature"), Icelandic skap ("state, condition, temper, mood").
The verb is from Middle English shapen, schapen, from Old English scieppan ("to shape, form, make, create, assign, arrange, destine, order, adjudge"), from Proto-Germanic *skapjanÄ… ("to create"), from the noun. Cognate with Dutch scheppen, German schaffen, Swedish skapa ("to create, make").
---