regulate

reg·u·late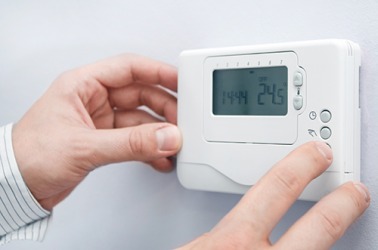 Dad regulates the temperature in the house by adjusting the thermostat.
verb
Regulate is defined as to control, direct or adjust.

An example of regulate is for a committee to make rules that control trade in an area.
An example of regulate is to change the temperature on the heater.
---
regulate
transitive verb
-·lat·ed

,

-·lat·ing
to control, direct, or govern according to a rule, principle, or system; specif., to impose a body of regulations on a particular industry, type of business, etc.
to adjust to a particular standard, rate, degree, amount, etc.: regulate the heat
to adjust (a clock, etc.) so as to make operate accurately
to make uniform, methodical, orderly, etc.
Origin of regulate
from Late Latin
regulatus,
past participle of
regulare,
to rule, regulate from Classical Latin
regula,
a rule
---
regulate
transitive verb
reg·u·lat·ed, reg·u·lat·ing, reg·u·lates
To control or direct according to rule, principle, or law.
To adjust to a particular specification or requirement: regulate temperature.
To adjust (a mechanism) for accurate and proper functioning.
To put or maintain in order: regulate one's eating habits.
Origin of regulate
Middle English
from
Late Latin
rēgulāre
rēgulāt-
from
Latin
rēgula
rod, rule
; see
reg-
in Indo-European roots.
Related Forms:
reg′u·la′tive reg′u·la·to′ry

adjective
---
regulate

Verb
(third-person singular simple present regulates, present participle regulating, simple past and past participle regulated)
---