rule

rule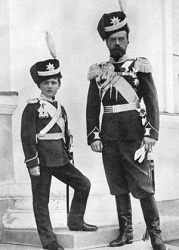 Nicholas II was the last czar to rule Russia and was executed in 1918 by the Bolsheviks during the Russian Revolution.
noun
The definition of a rule is an official regulation, code of regulations or set practice.

An example of a rule is that a red light means stop.
An example of a rule is an employer demanding their employees arrive at 8am.
verb
Rule is defined as to have influence or authority over others.

An example of to rule is Mussolini's dictatorship in Italy.
---
rule
an authoritative regulation for action, conduct, method, procedure, arrangement, etc.: the rules of the school
an established practice that serves as a guide to usage: the rules of grammar

a complete set or code of regulations in a religious order: the Benedictine rule
a fixed principle that determines conduct; habit; custom: to make it a rule never to hurry
something that usually or normally happens or obtains; customary course of events: famine is the rule following war

government; reign; control
the period of reigning of a particular ruler or government

a ruler or straightedge

Obs.

way of acting; behavior

Law

a regulation or guide established by a court governing court practice and procedure
a declaration, order, etc. made by a judge or court in deciding a specific question or point of law
a legal principle or maxim

Math.

a method or procedure prescribed for computing or solving a problem

Printing

a thin strip of metal, the height of type, used to print straight or decorative lines, borders, etc.
a line so printed
Origin of rule
Middle English
reule
from Old French
rieule
from Classical Latin
regula,
ruler, straightedge from
regere,
to lead straight, rule: see right
transitive verb
ruled

,

rul′ing
to have an influence over; guide: to be ruled by one's friends
to lessen; restrain: reason ruled his fear
to have authority over; govern; direct: to rule a country
to be the most important element of; dominate: action rules the plot
to settle officially or by decree; determine: a law ruled unconstitutional by a federal court

to mark lines on with or as with a ruler
to mark (a line) thus

Astrol.

to be the chief influence or guide: said of a planet (sense ): the zodiac sign Aries is ruled by the planet Mars
to have supreme authority; govern
to be at a specified rate or level; prevail: said of prices, commodities, etc.
to issue a formal decree about a question
rule out
to exclude, as by decision
to prevent; make impossible
---
rule
noun
a. Governing power or its possession or use; authority.

b. The duration of such power.

a. An authoritative, prescribed direction for conduct, especially one of the regulations governing procedure in a legislative body or a regulation observed by the players in a game, sport, or contest.

b. The body of regulations prescribed by the founder of a religious order for governing the conduct of its members.

A usual, customary, or generalized course of action or behavior: "The rule of life in the defense bar ordinarily is to go along and get along" ( Scott Turow )
A generalized statement that describes what is true in most or all cases: In this office, hard work is the rule, not the exception.
Mathematics A standard method or procedure for solving a class of problems.
Law

a. A court decision serving as a precedent for subsequent cases: the Miranda rule.

b. A legal doctrine or principle.

c. A court order.

d. A minor regulation or law.

e. A statute or regulation governing the court process: rule of procedure; rule of evidence.

See ruler.
Printing A thin metal strip of various widths and designs, used to print borders or lines, as between columns.
verb
ruled, rul·ing, rules
verb
transitive
To exercise control, dominion, or direction over; govern: rule a kingdom.

a. To have a powerful influence over; dominate: "Many found the lanky westerner naive, and supposed that he would be ruled by one of his more commanding cabinet officers" ( William Marvel )

b. To be a preeminent or dominant factor in: "It was a place where … middle-class life was ruled by a hankering for all things foreign" ( Amitav Ghosh )

To decide or declare authoritatively or judicially; decree: The judges ruled that the answer was acceptable. The police ruled the death a homicide. The law was ruled unconstitutional. See Synonyms at decide.

a. To mark with straight parallel lines.

b. To mark (a straight line), as with a ruler.
verb
intransitive
To be in total control or command; exercise supreme authority.
To formulate and issue a decree or decision.
To prevail at a particular level or rate: Prices ruled low.
Slang To be excellent or superior: That new video game rules!
Phrasal Verbs:
rule out
To prevent; preclude:
The snowstorm ruled out their weekly meeting.
To remove from consideration; exclude:
The option of starting over has been ruled out.
Origin of rule
Middle English
reule
from
Old French
from
Vulgar Latin
regula
from
Latin
rēgula
rod, principle
; see
reg-
in Indo-European roots.
Related Forms:
---
rule

---
rule - Legal Definition
n
An established or prescribed standard for action; an authoritative principal; the general norm for conduct in a specific kind of situation; a principle, standard, or regulation that governs the internal workings of a court or an agency.
v
To exercise control; for example, Diane's parents rule with an iron fist.
Deciding a legal point or question; for example, the judge ruled the question was admissible.
---