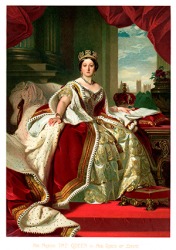 Queen Victoria's reign lasted from 1837 - 1901.
noun
The definition of reign is the time period of a ruling influence, or a prevalence.

The 64 years that Queen Victoria ruled England is an example of a reign.
The influence of the Beatles music is an example of a reign in rock and roll music.
verb
To reign is defined as to rule over a kingdom and subjects, or to be prominent.

To serve as the monarch of England is an example of reign.
The accepted rule of violence during the dark ages is an example of when violence would reign.
---
reign
royal power, authority, or rule; sovereignty
dominance, prevalence, or sway: the reign of good will
the period of rule, dominance, sway, etc.
Origin of reign
Middle English
regne
from Old French from Classical Latin
regnum
from
regere,
to rule: see right
to rule as a sovereign
to hold the title of sovereign, as in a constitutional monarchy

to hold sway; prevail or predominate: when peace reigns
Origin of reign
ME
regnen
< OFr
regner
< L
regnare,
to rule <
regnum
---
reign
noun
Exercise of sovereign power, as by a monarch.
The period during which a monarch rules.
Dominance or widespread influence: the reign of reason.
intransitive verb
reigned, reign·ing, reigns
To exercise sovereign power.
To hold the title of monarch, but with limited authority.
To be predominant or prevalent: Panic reigned as the fire spread.
Origin of reign
Middle English
reigne
from
Old French
from
Latin
rēgnum
from
rēx
rēg-
king
; see
reg-
in Indo-European roots.
---
reign

Noun
(plural reigns)
The territory or sphere which is reigned over; kingdom; empire; realm; dominion.
Verb
(third-person singular simple present reigns, present participle reigning, simple past and past participle reigned)
(intransitive) To exercise sovereign power, or to rule as a monarch

He reigned in an autocratic manner.
Origin
Middle English regnen < Anglo-Norman and Old French regner, from the Latin verb rēgnō, and the noun regnum
---