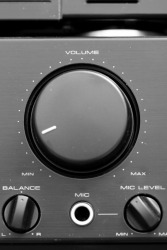 The volume control of a stereo system.
noun
The definition of control is power to direct, or an accepted comparison model in an experiment, or a device used for regulation.

An example of control is someone knowing exactly where everything is located in their house.
An example of a control is a chemical drug used in a urine drug testing lab.
An example of a control is a volume knob on a stereo.
verb
Control is defined as to command, restrain, or manage.

An example of control is telling your dog to sit.
An example of control is keeping your dog on a leash.
An example of control is managing all the coordination of a party.
---
control
transitive verb
-·trolled′

,

-·trol′ling
Obs.

to check or verify (payments, accounts, etc.) by comparison with a duplicate register
to regulate (financial affairs)
to verify (an experiment) by comparison with a standard or by other experiments
to exercise authority over; direct; command
to operate or regulate: this knob controls the volume of sound
to hold back; curb; restrain: control your grief
Origin of control
Middle English
countrollen
from Anglo-French
contreroller
from French
contrerole
from Medieval Latin
contrarotulus
, a counter, register from Classical Latin
contra
, against +
rotulus
: see roll
the act or fact of controlling; power to direct or regulate; ability to use effectively: her control over her passions, the violinist's control of his vibrato
the condition of being directed or restrained; restraint: the car went out of control
a means of controlling; check: wage and price controls
a standard of comparison for verifying or checking the findings of an experiment; specif., such a standard obtained by withholding the substance, treatment, drug, etc. being tested

an instrument or apparatus to regulate a mechanism: usually used in pl.
a device used to adjust or control: the volume control on an amplifier

a spirit supposed to direct the actions and speech of a spiritualistic medium
---
control
transitive verb
con·trolled, con·trol·ling, con·trols
To exercise authoritative or dominating influence over; direct: The majority party controls the legislative agenda. See Synonyms at conduct.
To adjust to a requirement; regulate: rules that control trading on the stock market; valves that control the flow of water.
To hold in restraint; check: struggled to control my temper.
To reduce or prevent the spread of: used a pesticide to control insects; controlled the fire by dousing it with water.

a. To verify or regulate (a scientific experiment) by conducting a parallel experiment or by comparing with another standard.

b. To verify (a financial account, for example) by using a duplicate register for comparison.
noun
Authority or ability to manage or direct: lost control of the skidding car; the leaders in control of the country.
One that controls; a controlling agent, device, or organization.

a. An instrument.

b. controls A set of such instruments.

A restraining device, measure, or limit; a curb: a control on prices; price controls.

a. A standard of comparison for checking or verifying the results of a scientific experiment.

b. An individual or group used as a standard of comparison in a scientific experiment, as a group of subjects given an inactive substance in an experiment testing a new drug administered to another group of subjects.

An intelligence agent who supervises or instructs another agent.
A spirit presumed to speak or act through a medium.
Origin of control
Middle English
controllen
from
Anglo-Norman
contreroller
from
Medieval Latin
contrārotulāre
to check by duplicate register
from
contrārotulus
duplicate register
Latin
contrā-
contra-
Latin
rotulus
roll
diminutive of
rota
wheel
; see
ret-
in Indo-European roots.
Related Forms:
con·trol′la·bil′i·ty

noun
con·trol′la·ble

adjective
---
control

---
control - Computer Definition
A program module or routine that enhances the functionality of a program. A control can be as small as a single button on a user interface or as large as a complicated forecasting algorithm. The term is often used with regard to user interface functions such as buttons, menus and dialog boxes. See ActiveX control, AWT, anchor and user interface control.
---