risk

risk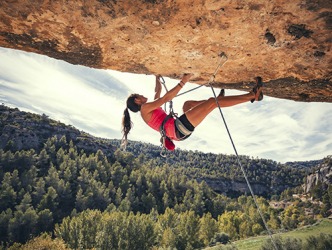 The risks associated with rock climbing are part of the appeal.
noun
Risk is the possibility or chance of loss, danger or injury.

An example of risk is a teenage boy on a car insurance policy.
An example of risk is a vacation in the Middle East during a war.
verb
Risk is defined as to expose someone or something to a dangerous situation.

An example of risk is going into a burning building to save someone.
---
risk
the chance of injury, damage, or loss; dangerous chance; hazard

Insurance

the chance of loss
the degree of probability of loss
the amount of possible loss to the insuring company
a person or thing with reference to the risk involved in providing insurance
the type of loss that a policy covers, as fire, storm, etc.
Origin of risk
French
risque
from Italian
risco, risico
from
risicare,
to risk from Vulgar Latin an unverified form
risicare
to expose to the chance of injury, damage, or loss; hazard: to risk one's life
to incur the risk of: to risk a fight
Origin of risk
Fr
risquer
at risk
in danger of damage, injury, loss, etc.
---
risk
noun
The possibility of suffering harm or loss; danger.
A factor, thing, element, or course involving uncertain danger; a hazard: "the usual risks of the desert: rattlesnakes, the heat, and lack of water" ( Frank Clancy )

a. The danger or probability of loss to an insurer.

b. The amount that an insurance company stands to lose.

a. The variability of returns from an investment.

b. The chance of nonpayment of a debt.

One considered with respect to the possibility of loss: a poor risk.
transitive verb
risked, risk·ing, risks
To expose to a chance of loss or damage; hazard. See Synonyms at endanger.
To incur the risk of: His action risked a sharp reprisal.
Origin of risk
French
risque
from
Italian
risco, rischio
probably from
Medieval Greek
rizikon
sustenance obtained by a soldier through his own initiative, fortune
from
Arabic
rizq
sustenance, that which God allots
from
Syriac
ruziqā
daily bread
from
Middle Iranian
rōčig
from
rōč
day
from
Old Iranian
raučah-
; see
leuk-
in Indo-European roots.
Related Forms:
---
risk

Noun
(plural risks)
The likelihood of a negative outcome.
Verb
(third-person singular simple present risks, present participle risking, simple past and past participle risked)
To incur risk (to something).
To incur risk (of something).
To incur risk (by something).
Usage notes
This is a catenative verb that takes the gerund (-ing).
Origin
From earlier risque, from Middle French risque, from Italian risco ("risk"; > Modern Italian rischio), of uncertain origin. Perhaps from Latin *resicum ("that which cuts, rock, crag") (> Medieval Latin resicu), from Latin resecō ("cut off, loose, curtail", verb), in the sense of that which is a danger to boating or shipping; or from Ancient Greek ῥιζικόν (rhizikón, "root, radical, hazard"). Cognate with Spanish riesgo, Portuguese risco
---
risk - Computer Definition

In security, its assessment is an attempt to assess or measure the likelihood that a cracker will successfully exploit system or network vulnerabilities. In its 2004 Global Security Survey, Deloitte reported that 83% of respondents confirmed that their companies' systems had been exploited in some way in 2003—and the percentage is likely higher because of respondent underreporting. These compromised systems cost companies money. For example, in 2002, NetworkITWeek in the United Kingdom noted that KMPG consultants estimated that security breaches cost businesses an average of $108,000.
The underlying principle behind risk assessment considers three critical elements: assets, threats, and vulnerabilities. Assets include tangible items having value, such as computer systems, as well as intangible items having value, such as the company's reputation. Thus, a primary step in risk assessment is to determine the items of value and their approximate value amounts—just as homeowners would determine their items of value and their approximate value amounts in order to buy the appropriate amount of insurance.
Threats are defined as the means that could be used by crackers or company insiders to compromise the company's computer systems. An action plan and appropriate security devices should be employed to counter these threats.
Vulnerability assessment indicates the likelihood that an exploit could occur, including where in the system and how. Questions that typically need answering include, for example, the following: Are passwords produced properly and amended regularly? Are systems locked-down and are networks adequately secured?
A major challenge facing system administrators is to consider the threats to which valued company assets are vulnerable and determine what security efforts are required—and in what priority—to not only stop possible exploits from occurring but also to be able to quickly and effectively recover from these exploits should they occur.
See Also: Administrator; Cracking; CSI/FBI Survey; Exploit; Vulnerabilities of Computers.
McLean, D. Companies Neglect IT Security At Their Peril. The Globe and Mail, May 12, 2005, p. B9; Schell, B.H. and Martin, C. Contemporary World Issues Series: Cybercrime: A Reference Handbook. Santa Barbara, CA: ABC-CLIO, 2004.
---
The expectation of loss. It is a function of the probability and the consequences of harm. See risk assessment.
---
risk - Investment & Finance Definition
The possibility that a negative event will occur, such as the value of investments declining below what was paid for them or investments losing all value. Investors attempt to minimize risk through diversification.
---
risk - Legal Definition
n
Peril, danger, the chance of loss or injury.
Liability for injury, loss, or damage, by statute placed upon the manufacturer rather than the consumer, should it happen from normal use of a product.
---