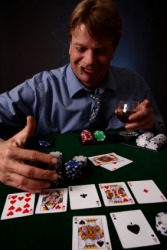 A man taking his winnings from a bet he placed in a card game.
noun
The definition of a bet is an agreement where two or more parties wager on the outcome of a situation or the amount of money made for such an agreement.

An example of a bet is money placed on a certain team winning the World Series.
verb
Bet is defined as to wager money in a competition.

An example of to bet is to put $10 down that a certain horse will win at the track.
---
bet
an agreement between two persons that the one proved wrong about the outcome of something will do or pay what is stipulated; wager

the proposition or terms of such an agreement
the thing or sum thus staked
the thing or person that something is or may be thus staked on: this team is a poor bet

a person, thing, or action with a (specified) likelihood of achieving success or bringing about a desired result: he's the best bet for the job
Origin of bet
probably aphetic from abet
transitive verb
or

Now Brit.

bet′ted

,

bet′ting
to declare in or as in a bet: I bet he'll be late
to stake (money, etc.) in a bet
to wager with (someone)
to make a bet or bets (on, against, with); wager
---
bet
noun
An agreement usually between two parties that the one who has made an incorrect prediction about an uncertain outcome will forfeit something stipulated to the other; a wager: made a bet that it would stop raining before 2:00.
An amount or object risked in a wager; a stake: a bet of $50.
One on which a stake is or can be placed: Our team is a sure bet to win.

a. A plan or an option considered with regard to its probable consequence: Your best bet is to make reservations ahead of time.

b. Informal A view or opinion, especially about something that cannot be known at the present time: My bet is that the rain will hold off. My bet is he didn't do it.
verb
bet,
or
bet·ted
bet·ting, bets
verb
transitive
To stake (an amount, for example) in a bet.
To make a bet with: I bet them that we would be first.
To make a bet on (a contestant or an outcome).
To maintain confidently, as if making a bet: I bet they were surprised by the news.
verb
intransitive
To make or place a bet.
Origin of bet
Origin unknown
---
bet

Initialism
(analytical chemistry) A nitrogen adsorption technique used to measure the specific surface area of a solid.
Origin
Named after its inventors Brunau, Emmett and Teller.
---