plunge

plunge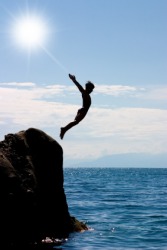 A boy about to plunge into the ocean for a swim.
noun
The definition of a plunge is a place for swimming or an act of diving or jumping into an activity.

An example of a plunge is jumping right into learning how to scuba dive.
verb
Plunge is defined as to dive, thrust or go into something, usually with force or speed.

An example of to plunge is to jump into the ocean for a swim.
---
plunge
transitive verb
plunged

,

plung′ing
to thrust, throw, or force suddenly (into a liquid, hole, condition, etc.): to plunge an oar into the water, to plunge a country into debt
Origin of plunge
Middle English
plungen
from Old French
plongier
from Vulgar Latin an unverified form
plumbicare
from Classical Latin
plumbum
, lead: see plumb
to throw oneself, dive, or rush, as into water, a fight, etc.
to move violently and rapidly downward or forward
to pitch, as a ship
to slope steeply, as a road
to extend far down in a revealing way: a plunging neckline or back
to fall off or decline precipitously

Informal

to spend, gamble, or speculate heavily or rashly
a dive or downward leap
a swim

any steep and rapid descent
a place for plunging, or swimming

Informal

a heavy, rash investment or speculation
take the plunge
Informal
to start on a new and seemingly uncertain enterprise, esp. after some hesitation
---
plunge
verb
plunged, plung·ing, plung·es
verb
intransitive
a. To dive, jump, or throw oneself: We plunged into the lake.

b. To fall rapidly: The car went off the road and plunged into the gully.

To devote oneself to or undertake an activity earnestly or wholeheartedly: I plunged into my studies. She plunged ahead with her plan.
To enter or move headlong through something: The hunting dogs plunged into the forest.
To slope steeply downward: a cliff that plunges to the sea.
To move forward and downward violently: The ship plunged through rough seas.
To become suddenly lower; decrease dramatically: Stock prices plunged during the banking crisis.
verb
transitive
To thrust or throw forcefully into a substance or place: plunged the eggs into the hot water; plunged the fork into the potato.
To cast suddenly, violently, or deeply into a given state or situation: "The street was plunged in cool shadow" ( Richard Wright )
To use a plunger to try to unblock (a drain, for example).
noun
The act or an instance of plunging: a plunge off the dock.
A swim; a dip.
A sudden or dramatic decline: a plunge in prices.
Origin of plunge
Middle English
plungen
from
Old French
plongier
from
Vulgar Latin
plumbicāre
to heave a sounding lead
from
Latin
plumbum
lead
---
plunge

Verb
(third-person singular simple present plunges, present participle plunging, simple past and past participle plunged)
Origin
From Middle English plungen, ploungen, Anglo-Norman plungier, from Old French plonger, (Modern French plonger), from unattested Late Latin frequentative *plumbicare ("to throw a leaded line"), from Latin plumbum ("lead"). Compare plumb, plounce.
---