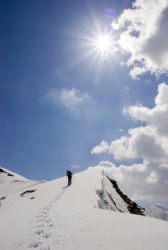 A hiker ascends a mountain ridge.
verb
The definition of ascend is defined as to move upward.

To scale a mountain is an example of ascend.
---
ascend
to go up; move upward; rise
to proceed from a lower to a higher level or degree, as in rank, pitch, etc.
to slope or lead upward
to go back in time or line of ancestry
Origin of ascend
Middle English
ascenden
from Old French
ascendre
from Classical Latin
ascendere
from
ad-
, to +
scandere
, to climb
to move upward along; mount; climb: to ascend stairs
to move toward the source of: to ascend a river
to succeed to (a throne)
---
ascend
verb
as·cend·ed, as·cend·ing, as·cends
verb
intransitive
To go or move upward; rise: The balloon ascended into the clouds. See Synonyms at rise.
To slope upward: The trail ascends to an outcrop overlooking the valley.
To rise from a lower level or station; advance: ascended from poverty to great wealth; ascend to the throne.
To go back in time or upward in genealogical succession.
verb
transitive
To move upward upon or along; climb: ascended the mountain.
To slope upward toward or along: The road ascends the ridge.
To succeed to; occupy: ascended the throne upon the death of her father.
Origin of ascend
Middle English
ascenden
from
Old French
ascendre
from
Latin
ascendere
ad-
ad-
scandere
to climb
; see
skand-
in Indo-European roots.
Related Forms:
as·cend′a·ble as·cend′i·ble

adjective
---
ascend

Verb
(third-person singular simple present ascends, present participle ascending, simple past and past participle ascended)
(intransitive) To slope in an upward direction.

The road ascends the mountain.

To go up.

You ascend the stairs and take a right.

To succeed.

She ascended the throne when her mother abdicated.

(figuratively) To rise; to become higher, more noble, etc.

Our inquiries ascend to the remotest antiquity.
---