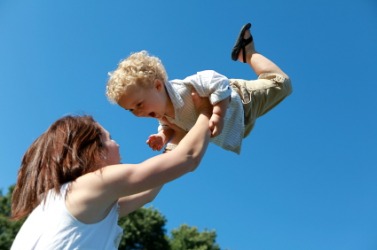 A mother lifts her child into the air.
noun
The definition of a lift is something used to pick something else up.

An example of lift is an elevator.
verb
Lift is defined as to bring something up, raise or to end a mandated activity.

An example of lift is to pick a child off of the floor.
An example of lift is to cancel a debt and the need to make a monthly payment.
---
lift
to bring up to a higher position; raise
to pick up and move or set: lift the box down from the shelf
to hold up; support high in the air
to raise in rank, condition, dignity, spirits, etc.; bring to a higher level; elevate; exalt
to pay off (a mortgage, debt, etc.)
to end (a blockade, siege, etc.) by withdrawing forces
to revoke or rescind (a ban or order)
to loosen and remove (bulbs, seedlings, or root crops) from the soil
to take an imprint of (a fingerprint) from a surface

Informal

to remove from its proper place; esp., to plagiarize: to lift a passage from another writer

Informal

to steal
to reduce the sagging of (the face, breasts, etc.) by means of cosmetic surgery
to transport, esp. by aircraft

Golf

to pick (a ball) up, as from an unplayable position

Mil.

to change the direction of or cease (fire)
Origin of lift
Middle English
liften
from Old Norse
lypta
from
lopt
, air, akin to Old English
lyft
, German
luft
, Dutch
lucht
to exert strength in raising or trying to raise something
to rise and vanish; be dispelled: the fog lifted
to become raised or elevated; go up
to stop for a time
a lifting, raising, or rising; upward movement
the amount lifted at one time

the distance through which something is lifted
the extent of rise or elevation

lifting power or influence
elevation of spirits or mood
elevated position or carriage, as of the neck, head, etc.

Informal

a ride in the direction in which one is going
help of any kind
a swell or rise in the ground
the means by which a person or thing is lifted; specif.,

a layer as of leather placed inside a shoe to increase the wearer's height

Brit.

elevator
any of various devices used to transport people up or down a slope: a ski lift
a device for lifting an automobile for repairs

Aeron.

the component of total air force acting on a body, as on an airfoil or wing, that is perpendicular to the direction of flight and exerted, normally, in an upward direction

Mining

a set of pumps in a mine
lift up one's voice
Origin of lift
as in Isa. 24:14, 52:8, Luke 17:12, etc.
Literary
to raise the voice, now, esp., as in song or in jubilation, praise, etc.
---
lift
verb
lift·ed, lift·ing, lifts
verb
transitive
a. To direct or carry from a lower to a higher position; raise: lift one's eyes; lifted the suitcase.

b. To transport by air: The helicopter lifted the entire team to the meet.

a. To revoke by taking back; rescind: lifted the embargo.

b. To bring an end to (a blockade or siege) by removing forces.

To cease (artillery fire) in an area.

a. To raise in condition, rank, or esteem: work that lifted her in the eyes of her colleagues.

b. To uplift; elate: Your telephone call really lifted my spirits.

To remove (plants) from the ground for transplanting.
To project or sound in loud, clear tones: lifted their voices in song.
Informal To steal; pilfer: A thief lifted my wallet.
Informal To copy from something already published; plagiarize: lifted whole paragraphs from the encyclopedia.
To pay off or clear (a debt or mortgage, for example).
To perform cosmetic surgery on (the face, for example), especially in order to remove wrinkles or sagging skin.

a. Sports To hit (a golf ball) very high into the air.

b. To pick up (a golf ball) to place it in a better lie.

c. To shoot or flip (a puck) so that it rises sharply off the ice.
verb
intransitive
a. To rise; ascend.

b. To yield to upward pressure: These windows lift easily.

a. To disappear or disperse by or as if by rising: By afternoon the smog had lifted.

b. To stop temporarily: The rain lifted by morning.

To become elevated; soar: Their spirits lifted when help came.
noun
The act or process of rising or raising to a higher position.
Power or force available for raising: the lift of a pump.
An organized effort or a flight transporting supplies or people by airplane; an airlift.

a. The extent or height to which something is raised or rises; the amount of elevation.

b. The distance or space through which something is raised or rises.

A rise or an elevation in the level of the ground.
An elevation of the spirits: The good news gave us a lift.
A raised, high, or erect position, as of a part of the body: the lift of his chin.
A machine or device designed to pick up, raise, or carry something.
One of the layers of leather, rubber, or other material making up the heel of a shoe.
Chiefly British A passenger or cargo elevator.
A ride in a vehicle given to help someone reach a destination: gave my friend a lift into town.
Assistance or help: gave her a lift with her heavy packages.
A set of pumps used in a mine.
The component of the total aerodynamic force acting on an airfoil or on an entire aircraft or winged missile perpendicular to the relative wind and normally exerted in an upward direction, opposing the pull of gravity.
Phrasal Verbs:
lift off
To begin flight:
The spacecraft lifted off at noon.
Origin of lift
Middle English
liften
from
Old Norse
lypta
Related Forms:
---
lift

---
lift - Computer Definition
---