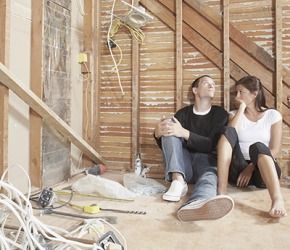 Gary and Elena realized they had been ripped off when their contractor skipped town with the large deposit they paid him.
noun
The definition of a rip off is a product that is not worth the cost or a scam that you fall victim to that causes you to pay more than something is worth.

An example of a rip off is a cheap purse that falls apart in a day.
An example of a rip off is when someone promises to sell you an item, takes your money and never comes with the item.
verb
To rip off is to cheat or steal from someone.

An example of rip off is when you ask someone for money for a product that you will buy them, take the money and never deliver.
---
rip-off
the act or an instance of stealing, cheating, exploiting, misrepresenting, etc.
a product that is overpriced, esp. one that is inferior or an imitation
---
rip-off
noun
Slang
A product or service that is overpriced or of poor quality.
Something, such as a film or story, that is clearly imitative of or based on something else.
A theft.
An act of exploitation.
---
rip-off

Noun
(plural ripoffs)
Alternative spelling of rip-off.
---