gift

GIFT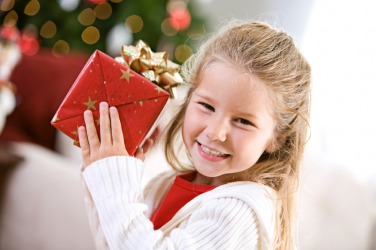 A little girl has received a gift.
noun
The definition of a gift is a present or something given freely.

An example of a gift is a toy car given to a child for Christmas.
verb
To gift is defined as to give something without the hopes of getting anything in returning.

An example of to gift is to provide a friend with a present on Christmas.
---
gift
something given to show friendship, affection, support, etc.; present
the act, power, or right of giving
a natural ability; talent: a gift for languages
Origin of gift
Middle English from OE, portion, wedding gift ( from
giefan
: see give) and from Old Norse
gipt
, gift ( from
gefa
, akin to give), akin to German
gift
, poison
to present a gift to
to present as a gift
look a gift horse in the mouth
to be critical of a gift or favor: from the practice of judging a horse's age by its teeth
---
gift
noun
Something that is bestowed voluntarily and without compensation: I received several gifts for my birthday. Your gift of $100 is greatly appreciated.
The act of giving: The painting came into their possession by gift.
A talent, endowment, aptitude, or inclination: She has a gift for playing the piano.
transitive verb
gift·ed, gift·ing, gifts
To present something as a gift to: gifted his niece with a watch.
To give as a gift: "King Charles II … had gifted the land of Carolina to certain members of his court" ( Marilyn Yalom )
To endow with: Nature has gifted her with a fine voice.
Origin of gift
Middle English
from
Old Norse; see
ghabh-
in Indo-European roots.
GIFT
abbreviation
gamete intrafallopian transfer
---
gift

Verb
(third-person singular simple present gifts, present participle gifting, simple past and past participle gifted)
To give as a gift.
To give away, to concede easily.
Origin
From Old Norse gipt, cognate with Old English ġift.
---
gift - Legal Definition
n
v
Property given as a present.
The action of making a present of property.
class gift
A gift made to a group of persons, the number of whom is determined at the time of the gift.
gift causa mortis. (Latin.)
A gift made by a donor in the expectation that he or she will die soon after.
gift over
A gift that becomes effective only upon the expiration of a prior transfer (such as a life estate).
inter vivos gift
An irrevocable gift made during the owner's lifetime.
testamentary gift
A gift made by will.
---