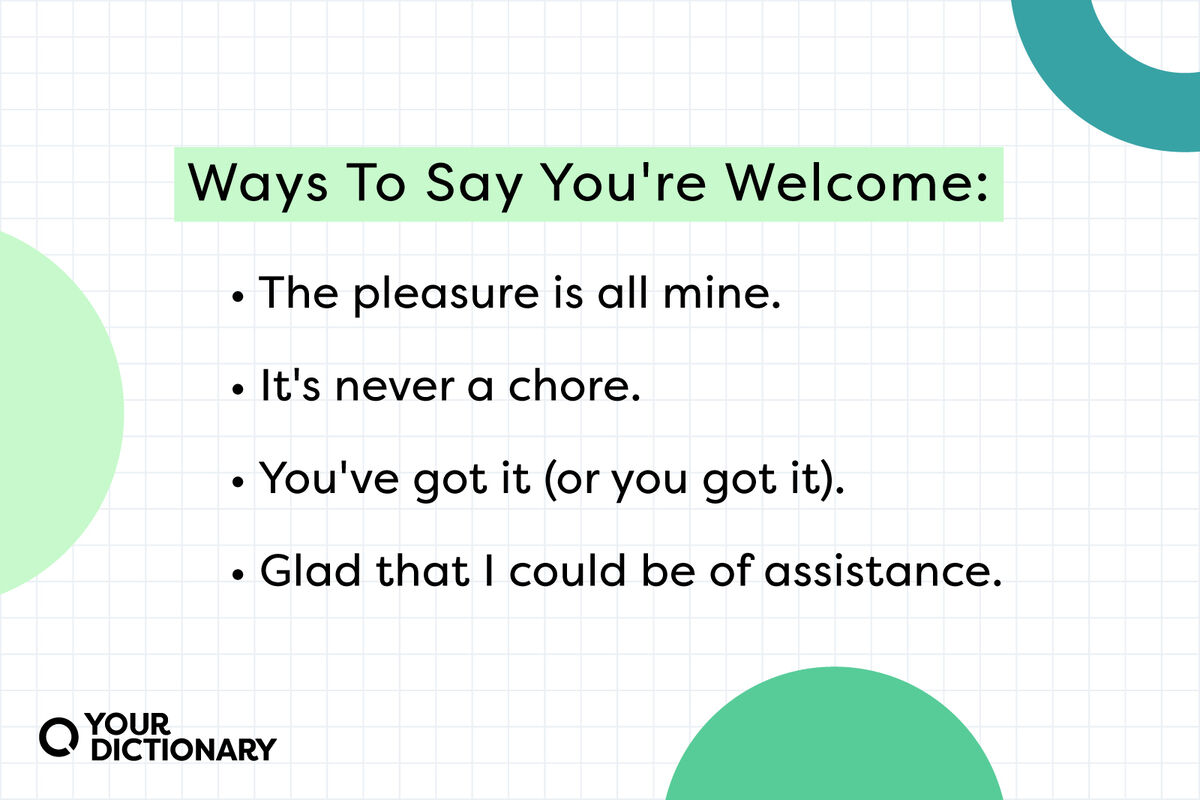 When you do something nice for someone, it feels good to hear "Thank you." So good, in fact, that you want to say "Thank you" right back! Avoid the "Thank you" — "No, thank you" loop with other ways to say "You're welcome" after you've done someone a solid.
Thoughtful "You're Welcome" Synonyms
Your loved ones appreciate your generosity and want to show their appreciation with profound thanks or thank-you cards. Respond in kind with thoughtful ways to say, "You're welcome."
Always glad to help.
It makes me happy to help.
It was nothing.
It's always great to be of assistance.
I'm always here to help.
Just ask, any time I can help.
Let me know anytime I can help.
Pleased to be of assistance.
Thank you for allowing me to help.
The pleasure is all mine.
You're so kind.
You're very welcome.
Casual Ways To Say "You're Welcome"
Many times, close friends or immediate family members are the ones who seem to say "Thank you" the most. In these less-formal situations, opt for a fun and relaxed way of saying "You're welcome."
Absolutely.
Anytime.
Don't give it a second thought.
Don't mention it.
It's never a chore.
I've got your back.
Just returning the favor.
No problem.
No worries.
Of course.
Sure.
You'd do the same for me.
You got it.
Different Ways To Say "You're Welcome" Professionally
If your job involves working closely with coworkers or interacting with customers, you probably find yourself saying "You're welcome" in a professional setting fairly often. If you're looking to change up how you respond to "Thank you" in a business setting, there are plenty of appropriate options to consider.
Certainly.
Customers are our first priority.
Glad that I could be of assistance.
I am here to serve.
Happy to support the team.
Just doing my job.
No thanks are necessary.
Not at all.
Not a problem.
My pleasure.
Of course.
Customer satisfaction is my goal.
That's why I'm here.
We aim to please.
How To Reply When Someone Thanks You for a Gift (Other Than "You're Welcome")
Any time you give someone a gift, you expect the recipient to say "Thank you," either via spoken communication or a thank you note. When a gift recipient expresses thanks in person, it's polite to respond with "You're welcome" or a suitable alternative.
A special gift for a special person.
Enjoy it, with my compliments.
Happy to share.
I hope you enjoy using it.
I knew you'd like it.
I wanted you to have it.
I'm so glad you like the gift.
It's just a small token.
It's perfect for you.
Knowing you like it is all the thanks I need.
Please enjoy.
Put it to good use.
You deserve a treat.
What Can I Say Except "You're Welcome"