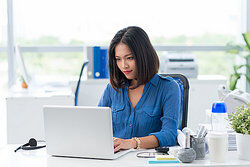 There are many types of business communication writing methods and styles that influence how companies, governments, and institutions communicate with each other. However, all professional communication, from emails and letters to memoranda and formal invitations, have fundamental points in common. Clarity, a formal tone, and maximum information density are always key priorities. Read on to learn about the different types of business writing, along with best practices for its composition.
Types of Business Writing
The first consideration in any writing project is to identify the type of communication you're trying to craft. In business, there are a few core types of writing you can expect to be doing on a regular basis.
Encompassing business letters, emails and memoranda, correspondence is intra-business communication. That is, it's communication generally intended to be read by coworkers, not customers. We have written extensively about the various forms of business communication and how to make each one great.
Business letter writing is one of the oldest forms of business correspondence, but it's still an important skill to master. It's vital to balance the engaging tone of a letter with the formal expectations of a business setting.
When you need to convey basic information to a group of recipients, nothing does the job better than an old-fashioned memorandum. Getting a memo right is all about clarity and concision. Get right to the point, make it clear what is required of the reader, and thank them for their cooperation.
Writing a good email is harder than it sounds. Emails are less formal than letters, but should still show a degree of professionalism. They also need to pack as much information into as little text as possible.
Proposals are a unique type of formal business communication. Of all the common kinds of business writing, proposals are probably the most dependent on form. Getting that form right and using it to achieve your goal are vital skills in modern business.
Start with our basic guide on how to write proposals. If you need help, and especially if your employer or your customer hasn't given you a template to work with, consult our resource for guidance. We have you covered.
At first, an informal proposal might seem like a bit of a contradiction in terms. But while even an informal proposal is more structured than a casual email, many proposals are simply a way of writing down a suggestion and passing it along. Here's our guide on how to tackle an informal proposal.
Formal proposals aren't limited to the business world. Research proposals in academic settings follow their own rules. We've broken them down for your convenience.
Reports are more formal than other forms of written business communication. Your employer may have a set structure for a given report. Even if they don't, it's important to be rigorous and detailed, while simultaneously keeping things as to the point as possible.
While every form of business writing has its own unique quirks, there are several overarching principles that apply to all communication in a professional setting.
The first rule of all written business communication is to "get to the point." Business writing is all about sharing information in an efficient, professional manner. For every piece of written business communication, whether it's a two-line email or a two-hour presentation, start by identifying a clear, concrete message you want to communicate.
To truly shorten things up, take a look at our list of common business abbreviations.
Formality is a critical element of how most business writing is conducted today. Any piece of official writing should be considered a legal document and an important component of an organization's body of work. Choose your tone accordingly.
Remember, a business is made up of people. It's just as important for informal communication to be friendly and polite as it is for official documents to follow formal structure. Being polite and helpful isn't just good manners, it's a good strategy. People perform better when they feel positive toward their employer.
Emphasizing praise and avoiding negativity are crucial elements of informal business communication. Also, take care in learning to express your points with positive phrasing.
Different Types, Similar Style
The main feature of business writing that ties all forms together is the style. No matter what kinds of documents you are writing, you have to be concise, convey information effectively, and engage your reader in a positive fashion.
For an even clearer sense of business writing style, take a look at our comparison of business versus academic writing.