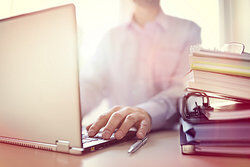 Before you start writing an academic research proposal - step 0, if you like - take some time to review the rules of proposal writing in general. Academic research proposals follow similar guidelines, but also make unique demands of the writer.
A research proposal should be built on a concrete plan to conduct academic or scientific research. It outlines not only what you plan on researching, but it also explains all the procedures for qualitative and quantitative study you intend on using.
A research proposal for academic writing analyzes a topic and proposes a hypothesis for that topic. You will normally see this sort of proposal as a precursor to a doctoral dissertation or a master's degree level thesis paper.
The proposal will introduce what the research proposes to do and/or prove. It will also give an in-depth account of the methods and theories that will be used to support the hypothesis within the project, including a review of relevant literature. Note that the same principles of proposal writing apply whether the project in question is strictly informative or is in pursuit of a persuasive point.
We've broken those principles into simple, step-by-step instructions that will serve you well on any academic research proposal.
Step 1: Review the Literature
If you're writing a dissertation or thesis, you are almost certainly required to conduct a literature review. Even if the parameters of your assignment don't require a separate literature review, writing one will make your paper both easier to write and higher in quality.
By reviewing the current literature on your topic, you can narrow down your focus and establish a hypothesis that has not yet been substantively addressed. A review will also bring you up to date on the current state of study in the topic area.
Step 2: Create a Hypothesis
With a little luck, having reviewed the literature on your area of study, an idea will jump out at you. Hopefully, this idea is both interesting to you personally and deserving of further study on a larger scale. Write it down. Get comfortable with it, because your life for the next few weeks or months will be dedicated to exploring this topic.
Make absolutely certain that you assert a testable, falsifiable claim. If you're not sure, don't worry. Just check our article on writing hypotheses to know for certain.
Step 3: Craft Your Methodology
We can't be much help here, because we are neither psychics nor hackers. We don't know what your area of study is. What we know is that your hypothesis must be falsifiable and your methods must act as a test of whether or not your hypothesis is false.
If it is, don't shy away from saying so. A "failed" hypothesis is not a failed paper. Asserting that your data says something different than it actually does is a failed paper, not to mention academic malpractice. Keep your methods rigorous and be real about what they say.
Step 4: Write an Abstract
At this stage, you have at least two vital tools for your paper: a hypothesis and a methodology. The third and final element is your abstract.
A good abstract is vital to rigorous writing. Over the course of the 10 or 50 or 500 pages of your paper, this 300-word paragraph is what will keep you honest. An abstract is a simple, straightforward statement of what your hypothesis is, what methodology you intend to use, what limitations those methods may have, why your results will be important, and to whom.
If that sounds simple, that's because it is. Writing the abstract is easy. Confining your proposal solely to what your abstract says - and let's be clear, that's exactly what you'll be judged on - is the tricky part.
This may seem intimidating. You've got your hypothesis, your methodology and your abstract. If you've gotten this far in your studies, you probably know how to format a research paper. If you don't, check out our help with MLA, APA and Chicago formats. But this isn't just a research paper. It's your proposal. It's the big one. A great place to start is with reviewing our sample outline below.
In some ways, this is the easy part. That's the purpose of all that prep work. That's the reason the last step of a "How To Write" tutorial is "write." With your literature review in hand, your hypothesis defined, your abstract keeping you honest, and your outline laying down the structure, all you really have to do is fill in the blanks. Be concise, be declarative, present your method, limitations and significance with confidence, and you'll be set.
Outline of a Research Proposal
Here follows a concise, content-neutral outline structure for a research proposal.
i. Introduction
Your introduction should provide the background or the skeleton of the paper. You are establishing your basic framework for research. You should probably have a few subsections in the introduction.
a. You can grab the attention of the reader with your topic.
b. You should provide brief background information and explore past research.
c. It will discern if your research is qualitative or quantitative and should allude to the thesis statement.
ii. Statement of the Problem
a. This section will describe the analytical approach that you intend to use.
b. You will fully describe the problem as it related to your topic of research.
c. It will answer the question, "Why does this research need to be done?"
iii. Purpose of the Study
a. You will need to provide a well rounded, intelligent and substantial statement on why the research that you are doing needs to be done.
b. It will disclose the hypothesis that needs to be tested and any questions surrounding it.
c. It will normally begin with the statement, "The purpose of this academic research study is…"
d. It will provide a detailed discussion of whether you will be doing quantitative or qualitative research, and describe the instruments of research (survey, interview, questionnaire, etc.) to be used.
iv. Literature Review
a. This will discuss the information that is already known about the project.
b. It will review any pressing and pertinent research that is in any way tied to the hypothesis debunking it.
c. It provides a research strategy - as in what sources will you use.
v. Research Questions or Hypotheses
a. You will disclose your hypothesis here.
b. You will further disclose any research questions that surround your hypothesis.
c. You will address the possible testable theories that will bolster your hypothesis.
vi. Methods and Procedures
a. This section will tell exactly which methods you will use in order to prove your hypothesis.
b. It discusses the key variables that you will test and/or control in order to prove your hypothesis to be valid.
c. This section will go in depth on your research methods.
vii. Limitations
This section will discuss any limitations that may arise in your research.
viii. Significance
This section discusses why your research is relevant to your audience.
ix. References
This section will list all of your reference material, typically in either APA or MLA format.
Crafting a research proposal can seem daunting, but remember it's just a means to an end. Fundamentally, you're just giving reasons for asking and answering a certain question. Keep that in mind and you're likely to convince your readers that your question is worth answering.
To brush up on your basic rigor, have a look at our pages on thesis statements and how to write a research paper. Review never hurt anybody!