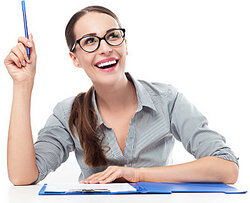 If you are tasked with reviewing your performance on the job, you may benefit from some tips on writing a self evaluation. A good self appraisal is all about striking a balance. It's easy to err on the side of being too boastful, and even easier to be too modest and sell yourself short.
As much as a self review is an opportunity to assess your ups and downs in a given role, it's also an opportunity to show the kind of self-confidence employers look for. Writing a self evaluation that shines can impress your boss and reflect well on your skills and capabilities.
What Is a Self Evaluation?
In its simplest form, a self evaluation is a review of what you've done at work, and how well you've done it, over a given period of time. It may be a formal requirement of your job, or something your supervisor or other coworker assigns you.
In any case, a self evaluation can seem intimidating at first. Am I being too proud? Not proud enough? It's all too easy to get nervous about saying or doing the wrong thing with your self evaluation.
Instead of worrying, think of this as the perfect opportunity to discuss yourself, your progress, and your pitfalls over the set period. That kind of analysis is good for you as well as your employer. With a little help from us, we're confident you'll discover it isn't as difficult as it might sound.
Writing About Successes and Failures
To create an impressive self evaluation, you need to find your own voice. That means speaking clearly about your successes and failures, and including information that supports your assertions. For pointers on how to do that, have a look at our tips on employee evaluations. The same tips apply if the employee is yourself!
We have a few more suggestions for how to find your own unique voice in a self assessment.
Talk about specific data points. Give an honest reflection of the work you do for the company and how well you have accomplished your objectives. Have a look at our advice on writing objectives to understand how your boss set your objectives and how you can make it clear you've achieved them.
Share your insights on your personal growth as an employee and your development as a leader. Look back at the skills on your resume and reflect on how you've improved in those areas.
Outline in detail how you are making a difference. The reader may not be aware of everything that you do for the company. Consider your company's mission statement and share how you've contributed.
Be confident, but show respect. The simple fact that this has been assigned shows your boss wants your input and needs information only you can provide.
Self Evaluation Format and Contents
Once you've found the right tone for your evaluation, it's time to get to work!
The first question is simple: is there a specific form your evaluation needs to take? Your employer may have a form for you to fill out. Other bosses prefer an essay or another style of writing. Be sure you know what your employer expects before you start!
Determining format is also a good opportunity to ask questions. Are there specific topics your boss wants you to cover? Are there subjects they're particularly interested in, and others where they only need a brief summary?
Once you have that information, stick close to the format your employer requires. Praise your high points, be honest about your low points, and you'll be set!
Be sure to take time and write a few drafts, so you know you're saying everything you want to say. Taking time for multiple drafts also minimizes any typos or awkward phrasing. Self evaluations benefit from being polished and planned rather than hasty.
Ultimately, while your boss or other employees will be reading your self evaluation, its primary purpose is to help you become a better professional. Look over your team's goals and discuss in specific detail what you have and have not done to help your team meet these goals.
Be honest. If you have made mistakes, own up to them, take responsibility, and discuss how you plan to move forward. Conversely, if you've achieved at an exceptional level, say so! You have a right to that credit. You've earned it.
The Importance of Self Awareness
A self evaluation provides your boss with your individual perspective on your performance. It also gives you an opportunity to do some thinking about the role you have played for the company, plus how you've grown as a professional. For more help with the basics of business writing, take a look at our advice on cover letters and core values.