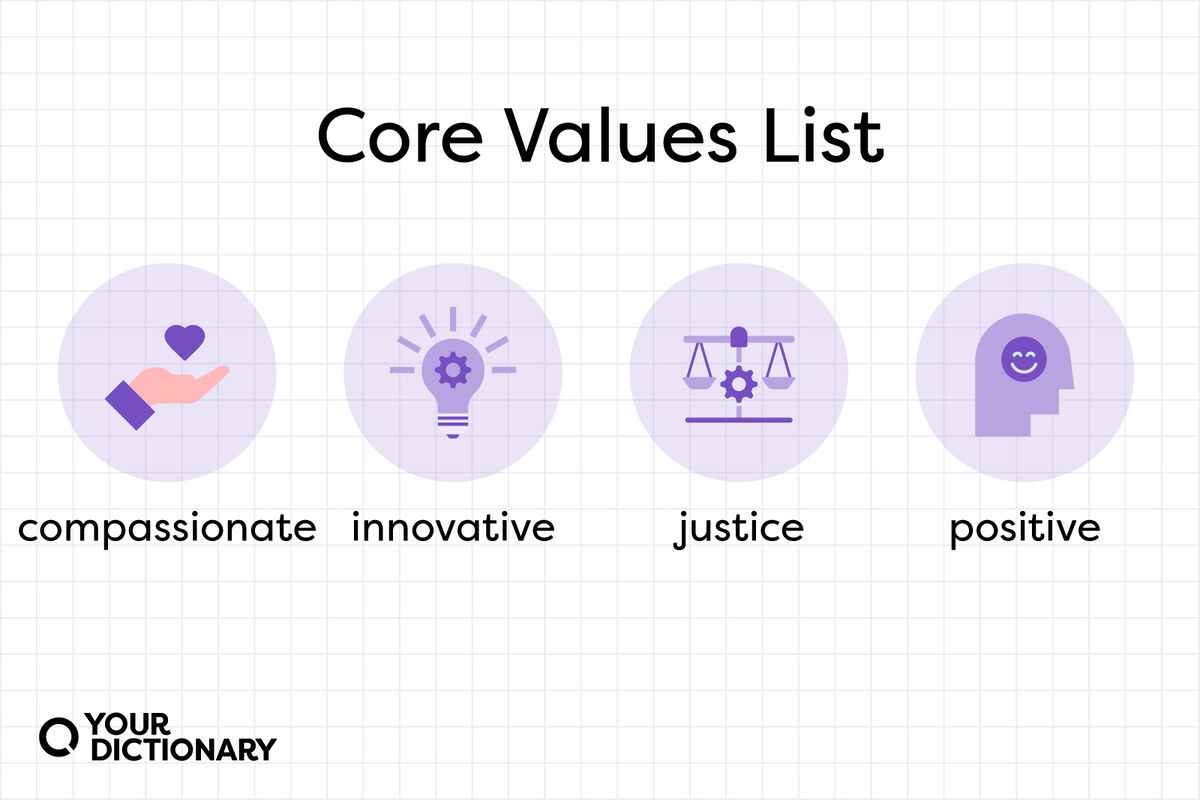 People all have their own raisons d'etre, their reasons for going through life. Core values are part of what guides those, giving you principles with which to navigate this strange road of life. Core values play important roles in personal development, but they can be just as important in guiding the movements, partnerships, and employees within companies and organizations.
Core values are the fundamental beliefs of a person or organization. These guiding principles dictate behavior and can help people understand the difference between right and wrong or otherwise navigate the difficult challenges of life.
Core values within companies can help to determine the right path and fulfill goals. Naming core values within your company or organization gives you concrete principles that all employees can use as a guide for their specific roles and for the larger work culture. There are many examples of core values in the world, depending on the context.
Core values aren't always personal. Many companies find it helpful to draft a values statement that highlights values the company seeks to follow and expects from its employees. Corporate values can impact business practices and the overall organizational culture.
25 Core Values About Business Practices
The way an organization conducts business is greatly impacted by the company's core values. These values impact what products or services a company offers and how they are produced and/or brought to market.
accountable
adaptable
aggressive
capable
collaborative
competitive
constantly improving
craftsmanship-focused
customer-focused
detail-oriented
dominant
efficient
ethical
excellent
expert
fair
flexible
high performing
innovative
market leading
responsible
responsive
service-oriented
transparent
well-crafted
Examples of Corporate Core Values
When companies refer to core values, these are the guiding principles that help to define how the corporation should behave in business and perhaps beyond, if they have an additional mission to serve the community. 
Core values usually complement the corporation's mission statement. There are many examples of common core values for a business or other type of organization.
As you can see, often the core values that companies have are similar to those that individuals might choose as guiding principles as well.
Personal Core Values List
There are countless types of personal values, and you'll need to choose the ones that are right for you. It's natural to want to choose a long list of core values in an effort to be the best you can be, but limiting your selection to a few helps you really focus on the most integral values in life without becoming distracted.
25 Personal Values for Behavior and Traits
The way a person acts and treats others is impacted by the individual's core values. Others often interpret a person's core values as examples of personality traits.
adventurous
authentic
committed
compassionate
concerned for others
consistent
courageous
dependable
enthusiastic
fearless
friendly
good humored
honest
honorable
independent
kind
loyal
open-minded
optimistic
perseverant
pragmatic
positive
reliable
respectful
virtuous
25 Personal Values About Rights and Causes
Core values also impact which rights and causes tend to matter the most to a person.
altruistic
animal rights advocate
charitable
civil disobedience 
community development
education
environmentalism
equality
fitness
freedom
giving back
historic preservation
human rights
individual liberties
justice
nurturing the next generation
patriotic
philanthropic
respect for individuals
rule of law
social justice
stand up for the underdog
stewardship
support for the arts
tolerant
How To Write Core Value Statements
Seeing a list of potential core values is one thing, but writing a core value statement is daunting for any person or organization. How do you boil down your central beliefs or the central beliefs of your organization? It's not easy, but it's also not meant to be easy. With a little guidance and plenty of thought, you can write meaningful core values for your organization.
1. Ask Yourself What's Important
Do what they call a brain dump. Ask yourself what's important.
Is it flexibility at work?
Is it about creative, new ideas no one's thought about before?
Is it an air of excitement?
As the ideas start to pour out of your mind, write each concept on a separate index card. Don't worry if you have ten or thirty ideas. Don't censor anything you're thinking at this stage. Just write. Write freely and envision the company of your wildest dreams. After, you can arrange, consolidate, and rank the cards as you see fit.
2. Keep It Clear and Concise
While you can have deeper discussions about what your core values mean to your organization and employees, you should generally keep your core values as clear and concise as possible. You want to keep the core values short because shorter often means easier to memorize.
3. Make an Actionable Statement
It can be easy to just have a single word or some sort of abstract, philosophical core value statement that you think encapsulates your entire organization, but a statement like "helpful" or "We live to serve people" doesn't have any real inherent action or value to it.
Create core value statements that feel actionable. You can do this by using action verbs in your statements. For example, you could say "We speak up for others" as a show of how specifically you want to help others.
This does depend on your general brand voice, but don't be afraid to make your core value statements fun. This keeps them memorable, but more importantly, keeping it fun ensures that it's truly unique and in your brand's voice.
What Are Your Core Values?
To get a sense of your company's core values, consider what matters to you and your team on an individual level. What is the impact that you want your company to make on the world? Or consider outside perspectives. When someone else thinks about your organization, what do you hope they remember you for?
If you can articulate those answers, you'll likely see a pattern that you can boil down into a single concept, such as a consistently positive attitude or using your creativity to make the world a better place. Once you have a value statement, focus on learning the difference between ethics, morals, and values.