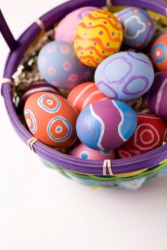 A basket of Easter eggs.
---
Easter egg definition by Webster's New World
a colored egg or an egg-shaped piece of candy, etc., used as an Easter gift or ornament
Webster's New World College Dictionary Copyright © 2010 by Wiley Publishing, Inc., Cleveland, Ohio. Used by arrangement with John Wiley & Sons, Inc.
---
Easter egg definition by American Heritage Dictionary
noun
A dyed or decorated egg, traditionally associated with Easter.
A hidden feature in computer software, a DVD, or a video game.
The American Heritage® Dictionary of the English Language, 4th edition Copyright © 2010 by Houghton Mifflin Harcourt Publishing Company. Published by Houghton Mifflin Harcourt Publishing Company. All rights reserved.
---
easter egg - Computer Definition
A component of a computer program that is hidden from plain sight and usually is not executed. Typically, an Easter egg can be revealed by entering an otherwise unused sequence of commands. Easter eggs are usually hidden in the code as a prank by programming teams. Finding an Easter egg might reveal additional credits to the programmers, embedded images, hidden levels, and graphical content in computer games. Generally, an Easter egg is an undocumented and therefore untested feature of a program that is embedded without management's knowledge. Because of their nature, Easter eggs are considered to be security risks in applications.
In 2005, there was considerable controversy over the Easter eggs in the popular computer game "Grand Theft Auto: San Andreas." Apparently, users could access sex scenes in the PC version of the game, an outcome that placed in jeopardy the game's alleged rating of teen appropriateness.
Hayes, F.: Grand Theft Auto smashup. Computer World, Inc, [Online, April 21, 2005.] http://www.computerworld.com/blogs/node/615.
An undocumented function hidden in software that may or may not be sanctioned by management. Easter Eggs are secret "goodies" found by word of mouth or accident. They are also used in video games, movies, TV commercials, DVDs, CDs, CD-ROMs and every so often in hardware. In Applications Very often, pressing some key combination when the About box is open (Help/About) displays the names of the developers who worked on the software. A video game might display the game designer's name when a certain maneuver is completed. The Media A movie or TV Easter Egg could be a date on a calendar of a famous event that provides a clue to the movie's ending. The headline in a newspaper casually lying on the table might offer a clue or perhaps some tongue-in-cheek comment. The right menu sequence on a DVD might produce extra trailers, and extra bonus tracks (extra goodies) may also be called Easter Eggs. In Hardware A hardware Easter Egg might play a song if a certain key combination is pressed. For more information, visit www.eeggs.com. See back door, cheat code and cuckoo egg.