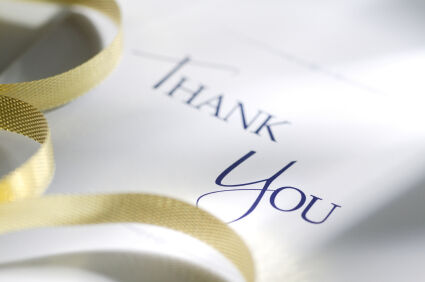 To whom much is given, much is expected. Therefore, when you're showered with gifts at your bridal shower and wedding, it's important to send out a wave of thanks immediately after. Within a few days of the bridal shower, sit down and handwrite personalized thank yous to everyone who attended.
The same holds true for the wedding ceremony. As soon as you return home from your honeymoon, plan to spend some time writing thank you notes to those who attended your wedding and were gracious enough to offer gits. Below, you'll find a few tips for writing bridal thank yous that'll help you to sleep in peace in your new nuptial bed.
Thank Your Bridal Shower Coordinators
Before the big day, a friend or family member is sure to plan a bridal shower for you. That means the crock pot you've been dreaming of and the set of kitchen knives is probably heading your way.
After you've created the registry, purchased a new dress, and enjoyed the shower itself, it's time to take out your fountain pen and hand write individualized thank yous. Here's a sampling to help you kickstart your own personalized notes:
No one on this planet has a better sister than I do. Thank you so much for planning every detail of my bridal shower, down to the little flamingos on the toothpicks. You didn't miss a single step and I absolutely love you for considering every last detail.
I was tremendously blessed with your friendship the day we met. Since then, we've gone on to experience one adventure after another. I'm brimming with excitement to start this latest adventure with Eamonn and I can't thank you for planning the bridal shower to end all bridal showers.
You sure know how to plan a surprise. Never in a million years did I think I'd be walking into my bridal shower last Saturday. Thank you for putting such heart and soul into the planning of that blowout bash. I think everyone had a blast (especially those who partook of your punch) and I know I'll tuck this memory away into the sweetest recesses of my heart forever.
Thank the Gracious Gift Givers
Even if people respond "No" to your wedding, they might still send along a gift. Often, this type of wedding gift comes in the form of money. As soon as you open the card and see their gift, it's time to take out your own stationery and write a wedding thank you card. (You should also pick up the phone and offer a verbal token of thanks.)
Here are some sample phrasings for the occasion:
You'll absolutely be missed at our wedding this summer! Still, there's much more to come in this happy life together. We'll look forward to having you at the next event. And, until we meet again, I'm sending you a big hug and a kiss in gratitude for your generous gift.
Thank you for your generous gift as Thomas and I begin our new life together! Thanks to your kindness, we're going to purchase a small bench for our entryway. Whenever we slip in and out of the front door, we're going to think of you!
Frank and I are so disappointed you won't be able to come celebrate with us this fall. Alas, we completely understand. Beyond that, we're so thankful for your generous gift. As we begin our new life together, know that we're tremendously grateful for your friendship. I'll speak to you soon!
As you're going through the gifts, make sure you write down who gave what gift. You might think you'll remember, or that you can go back later to check. That usually doesn't work out. Items get shifted around, and tags and cards get separated from gifts and money. As you open each gift or card, keep track of where everything came from and when the gift was received.
Thank the Non-Gift Givers Too
At every wedding, at least one person is going to come and not bring a gift. Although it's poor etiquette to attend a wedding without a gift, it is not a "rule" that people must bring something. And anyway, the day isn't about getting gifts, but about exchanging vows with your new husband or wife. Here are a few ways you can still construct a beautiful wedding thank you message:
Thank you for being a part of our special day. We were so glad to have you there with us. I hope you enjoyed all the evening's festivities and we look forward to sharing more of our life together with you!
Josh and I were so happy to have you there with us to celebrate our big day. We saw you and Mark tearing up the dance floor and absolutely loved it! Your friendship means the world to us and we look forward to celebrating the next big occasion with you!
Thank you for coming out to share in our wedding day! It wouldn't have been the same without you there. We hope you enjoyed all the food and festivities! Daniel and I can't wait to get together with you guys again soon!
In all your thank yous, mention the specific name of the gift, and how you intend to use it. Another example might be, "We love the set of wine glasses! We can't wait to use them at our next cocktail party." Don't lie though. Imagine that those people come over for a cocktail party and you are not using the glasses!
Don't mention the word "money" in a thank you card, and certainly never mention the amount that was given. Use phrases such as "Thank you for the generous gift" to express gratitude for a monetary gift.
Send Your Thank Yous Immediately
Make sure you send your thank you cards as soon as possible. If it's going to take six weeks for your professional photographs to come, then don't send personalized thank you cards. Purchase a nice set of stationery online and send out thank yous without a wedding picture on the cover.
Gratitude Is the Key to Happiness
As you embark on your new life, don't you want it to be happy and fulfilled? Start on the right foot with gratitude. Everyone who turned up for your bridal shower or wedding not only brought you a gift, but also bought a new dress or suit, traveled to your event, and perhaps even stayed overnight at a hotel for your affair. Thank them appropriately!
Feel free to get creative, too. Avoid stiff and stilted notes wherever possible. To that end, take a look at these Examples of Words for Thank You Notes. You can get really creative and include an appreciation quotation or two. As you sail off into the sunset, do so with a thankful heart.