present

pre·sent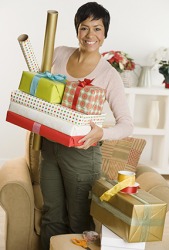 A woman holding several presents and gift wrap.
adjective
The definition of present is someone or something that is at a specified place.

An example of present is a group of people that is already in a conference room for a meeting.
noun
Present is current time or is happening right now.

An example of present is Barack Obama being the president in 2011.

The definition of a present is a gift.

An example of present is a piece of jewelry to celebrate an anniversary.
verb
Present is defined as to formally introduce or honor someone.

An example of present is announcing a newly married couple at their wedding reception.
---
present
being at the specified or understood place; at hand; in attendance
existing (in a particular thing): nitrogen is present in the air

of or at this time; existing or happening now; in progress
now being discussed, considered, written, read, etc.: the present writer

Archaic

readily available, effective, etc.

Obs.

self-possessed; collected
paying attention

Gram.

indicating action as now taking place (Ex.: she goes) or state as now existing (Ex.: the plums are ripe), action that is habitual (Ex.: he speaks with an accent), or action that is always the same (Ex.: the clock strikes twelve at noon)
Origin of present
Old French from Classical Latin
praesens
, present participle of
praeesse
, to be present from
prae-
, before (see pre-) +
esse
, to be (see essence)
the present time

Obs.

the present occasion
[pl.]

the present words or writings

Law

this very document: know by these presents

Gram.

the present tense
a verb form in this tense

Origin of present

OFr, in phr. mettre en present à, to put before (someone), present, offer, hence a gift something presented, or given; gift
transitive verb
pre·sent′
to bring (a person) into the presence of, and introduce formally to, another or others

to honor (someone), esp. formally, with a gift, award, etc.: the mayor presented him with the keys to the city
to provide or confront (someone) with something: this presents us with a difficult problem

to offer for viewing or notice; exhibit; display; show
to offer (a show, exhibit, etc.) to the public

to offer for consideration: to present a plan, opportunity, etc.
to give (a gift, donation, award, etc.) to a person, organization, etc.
to hand over, give, or send (a bill, credentials, etc.) to someone
to represent, depict, or interpret in the manner indicated
to point or aim (a weapon, etc.)
to nominate to an ecclesiastical benefice

Law

to put before a legislature, court, etc. for consideration
to bring a charge or indictment against
Origin of present
ME
presenten
< OFr
presenter
< L
praesentare
, to place before, lit., to make present <
praesens:
see presentthe adjective
intransitive verb
pre·sent′
to come before a physician (with a particular symptom, medical history, etc.)
pre·sent′ arms
Mil.
to hold a rifle vertically in front of the body, with the muzzle up: a position of salute

this position
the command to assume it
---
present
noun
A moment or period in time perceptible as intermediate between past and future; now.
Grammar

a. The present tense.

b. A verb form in the present tense.

presents Law The document or instrument in question: Be it known by these presents.
adjective
Existing or happening now; current: the present leader; present trends.

a. Being at hand or in attendance: Thirty guests were present at the ceremony.

b. Existing in something specified: Oxygen is present in the bloodstream.

Now being considered; actually here or involved: the present subject; present company excepted.
Grammar Designating a verb tense or form that expresses current time.
Archaic Readily available; immediate.
Obsolete Alert to circumstances; attentive.
Origin of present
Middle English
from
Old French
from
Latin
praesēns
praesent-
present participle of
praeesse
to be present
prae-
pre-
esse
to be
; see
es-
in Indo-European roots.
Related Forms:
verb
pre·sent·ed, pre·sent·ing, pre·sents
verb
transitive
a. To make a gift or award of: presented the medal to the winner.

b. To make a gift to: presented the winner with a medal.

a. To offer for observation, examination, or consideration; show or display: The detective presented his badge.

b. To offer (a play, for example) for public entertainment.

c. To afford or furnish: The situation presented us with a chance to improve our knowledge.

d. To turn or position in the direction of another: presented his face to the camera.

e. Immunology To display (an antigen) on the cell surface. Used especially of cells such as macrophages and dendritic cells, where the displayed antigen activates T cells as part of an immune response.

To represent or depict in a certain manner: The movie presents bankers as greedy and coldhearted.

a. To introduce, especially with formal ceremony.

b. To introduce (a young woman) to society with conventional ceremony.

To hold, carry, or point (a weapon) in a particular manner as a salutation or sign of honor, usually along the center axis of the body.
Ecclesiastical To recommend (a cleric) for a benefice.
verb
intransitive
To make a presentation.
Medicine

a. To be evident or manifest. Used of a disease or condition: how Lyme disease presents in its later stages.

b. To exhibit symptoms or signs during a medical examination: The patient presented with headache and heel pain.
noun
pres·ent Something presented; a gift.
pre·sent The position of a rifle or other weapon when presented.
Origin of present
Middle English
presenten
from
Old French
presenter
from
Latin
presentāre
to show
from
praesēns
praesent-
present participle of
praeesse
to be in front of
; see present
1
.
Related Forms:
---
present

---