tender

tend·er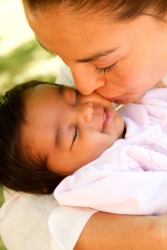 A mother tenderly kisses her baby.
adjective
The definition of tender is easy to chew or being delicate or soft in action.

An example of tender is a piece of steak that is not tough.
An example of tender is the way in which a mother gently rubs her baby's back.
noun
Tender is a person who takes care of someone or something.

An example of tender is a shepherd to his flock.
---
tender
soft or delicate and easily chewed, broken, cut, etc.; fragile, succulent, etc.
weak of constitution or physique; unable to endure pain, hardship, etc.; feeble; frail
having weakness due to youth; immature; young: the tender years
of soft quality or delicate tone; subdued: tender colors
that requires careful handling; ticklish; delicate: a tender question
gentle, mild, or light; not rough or heavy: a tender touch

that has or expresses affection, love, consideration, etc.: a tender smile
careful; considerate: tender of another's feelings

sparing; chary: tender of one's praise

acutely sensitive, as to pain, insult, etc.
sensitive to impressions, emotions, moral influences, etc.; impressionable: a tender conscience
sensitive to others' feelings; sympathetic; compassionate: a tender heart

giving physical pain, as from overuse or when not fully healed; painful; hurting: a tender pitching arm

Naut.

tending to lean to one side too easily when under sail
Origin of tender
Middle English
tendre
from Old French from Classical Latin
tener,
soft, delicate, tender, probably altered (infl. by
tenuis,
thin) from Sabine
terenum,
soft, akin to Classical Greek
ter?n,
tender from Indo-European an unverified form
ter-,
tender, weak, origin, originally , rubbed, worn down from base an unverified form
ter-,
to rub from source throw
to make tender

Archaic

to treat with tenderness
to offer in payment of an obligation
to present for acceptance; offer: to tender an invitation, apology, etc.
to submit as a tender: to tender a bid
Origin of tender
French
tendre
from Classical Latin
tendere,
to stretch, extend, tend
an offer of money, services, etc. made to satisfy an obligation, avoid legal action, etc.
a formal offer, as a proposal of marriage, a bid stating terms of a contract, or a bid on a printed form submitted to buy securities at a certain price
something offered in payment, esp. money
a person who tends, or has charge of, something

an auxiliary ship for supplying or servicing another ship or a submarine, lighthouse, etc.
a boat for carrying passengers, etc. to or from a ship close to shore

a railroad car carrying fuel and water for a steam locomotive, to the rear of which it is attached
a strip of meat, as from the tenderloin; esp., a strip of chicken breast, often served breaded and fried or baked
Origin of tender
from tender(loin)
---
tender
adjective
ten·der·er, ten·der·est
a. Easily crushed or bruised; fragile: a tender petal.

b. Easily chewed or cut: tender beef.

Young and vulnerable: of tender age.
Frail; delicate.
Sensitive to frost or severe cold; not hardy: tender green shoots.

a. Easily hurt; sensitive: tender skin.

b. Painful; sore: a tender tooth.

a. Considerate and protective; solicitous: a tender mother; his tender concern.

b. Characterized by or expressing gentle emotions; loving: a tender glance; a tender ballad.

c. Given to sympathy or sentimentality; soft: a tender heart.

Nautical Likely to heel easily under sail; crank.
transitive verb
ten·dered, ten·der·ing, ten·ders
To make tender.
noun
A strip of meat, usually chicken, often breaded, deep-fried, and served with a sauce.
Origin of tender
Middle English
from
Old French
tendre
from
Latin
tener
; see
ten-
in Indo-European roots.N., possibly short for
tenderloin
Related Forms:
noun
A formal offer, as:

a. Law An offer to pay the amount due under a debt or obligation.

b. A written offer to contract goods or services at a specified cost or rate; a bid.

Something, especially money, offered in payment.
transitive verb
ten·dered, ten·der·ing, ten·ders
To offer formally: tender a letter of resignation.
Law To offer (payment or performance) pursuant to an obligation.
Origin of tender
From
French
tendre
to offer
from
Old French
from
Latin
tendere
to hold forth, extend
; see
ten-
in Indo-European roots.
Related Forms:
noun
One who tends something: a lathe tender.
Nautical A vessel attendant on other vessels, especially one that ferries supplies between ship and shore.
A railroad car attached to the rear of a locomotive and designed to carry fuel and water.
---
tender

---
tender - Legal Definition
n
An unconditional offer of performance in order to satisfy a debt. It may be offered to save the party making the tender from a penalty for nonpayment or lack of performance. On the other hand, if the other party should refuse the tender without a justifiable reason, that party may be placed in default.
Something offered in order to settle a debt or obligation.
An offer put forward in hope of acceptance.
Something that serves as a means of payment, such as banknotes or coin (as in, legal tender).
tender of delivery
The placement by a seller at the disposal of the buyer, that is, arranging delivery of those paid for goods in a timely manner.
---