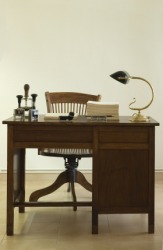 An older desk.
adjective
The definition of older is someone or something that has been around for more time than another.

An example of something older is an antique desk compared to a brand new desk.
---
older
alt. compar. of old
between middle age and extreme old age: used as an alternative to words which may connote debility, decline, etc.
---
older

---