older
[ōl′dər]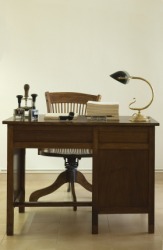 An older desk.
adjective
The definition of older is someone or something that has been around for more time than another.

An example of something older is an antique desk compared to a brand new desk.
---
older
adjective
between middle age and extreme old age: used as an alternative to words which may connote debility, decline, etc.
---
older
---
older
Variant of old
adjective
older or elder, oldest or eldest
having lived or been in existence for a long time; aged
of, like, or characteristic of aged people; specif., mature in judgment, wise, etc.
of a certain or specified age or duration: a child ten years old
made or produced some time ago; not new
familiar or known from the past; accustomed: up to his old tricks
designating the form of a language in its earliest attested stage: Old English
having been in use for a long time; worn out by age or use; shabby
that was at one time; former: my old teacher
having had long experience or practice: an old hand at this work
belonging to the remote past; having existed long ago; ancient: an old civilization
dating or continuing from some period long before the present; of long standing: an old tradition
designating the earlier or earliest of two or more: the Old World

Informal

dear: a term of affection or cordiality: old boy

Informal

tiresome, annoying, etc., esp. as a result of repetition or monotony: their incessant chatter has gotten old

Geol.

having reached the stage of greatly decreased activity or showing extensive reduction of topographical form: said of streams, mountain ranges, etc.
Origin of old
Middle English ; from Old English (Anglian)
ald,
West Saxon
eald,
akin to German
alt
; from Indo-European base an unverified form
al-,
to grow from source Classical Latin
altus,
old,
alere,
to nourish: basic sense "grown"
noun
time long past; yore: days of old
a person of a specified age: used in hyphenated compounds: a six-year-old
something old: with the
old people: often with the