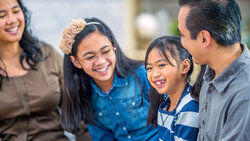 The Filipino language can be difficult to learn because it's hard to first identify what words are considered Filipino. For some, Filipino is just another word for Tagalog. Others consider Filipino to be its own language, a modified version of Tagalog. Today, most consider the Filipino language to be the standardized form of Tagalog.
As with learning any language, some of the core words in Filipino include basics like numbers. Start by learning each numero, or number, from one to ten.
Sero - Zero
Isa - One
Dalawa - Two
Tatlo - Three
Apat - Four
Lima - Five
Anim - Six
Pito - Seven
Walo - Eight
Siyam - Nine
Sampu - Ten
Filipino Color Words and Common Adjectives
Color words are another basic grouping of words you'll want to know when you're starting to speak Filipino. Knowing a few adjectives can help you describe things more precisely.
Itim - Black
Kulay-abo - Gray
Puti - White
Asul - Blue
Berde - Green
Dilaw - Yellow
Pula - Red
Kayumanggi - Brown
Maliit - Small
Mabuti - Good
Maganda - Beautiful
Masama - Bad
Mga pangalan ng hayop, or animal names, are usually one of the next groupings of words people cover when learning a new language. Here are the Filipino words for several common animals.
Ahas - Snake
Aso - Dog
Baboy - Pig
Baka - Cow
Ibon - Bird
Isda - Fish
Kabayo - Horse
Manok - Chicken
Pusa - Cat
Knowing a few basic body part words can be handy, especially if you are sick or injured.
Paa - Foot
Hita - Leg
Ulo - Head
Braso - Arm
Kamay - Hand
Katawan - Body
Tiyan - Stomach
Filipino Calendar and Time Terms
Learn the days of the week and common time terms so you can make plans with your Filipino friends.
Lunes - Monday
Martes - Tuesday
Miyerkules - Wednesday
Huwebes - Thursday
Biyernes - Friday
Sabado - Saturday
Linggo - Sunday
Ngayong araw - Today
Bukas - Tomorrow
Kahapon - Yesterday
Linggo - Week
Minuto - Minute
Ang oras - O'clock
Filipino Greetings and Important Phrases
When you're meeting and greeting Filipino strangers or friends, it's important to show respect and be polite by using proper greetings and asking the right questions. You can also browse examples of Filipino idioms to learn fun phrases used by Filipino people.
Ako si... - I'm…
Anong sinabi niya? - What did he say?
Anong pangalan mo? - What is your name?
Hindi - No
Kamusta - Hello
Kamusta ka? - How are you?
Ikinalulugod kitang makilala - Nice to meet you
Mabuhay - Long live (used to welcome you to the country)
Magandang araw - Good day
Mabuti naman ako, salamat. - I'm good, thank you.
Nagsasalita ako ng ingles. - I speak English.
Opo - Yes (used as a sign of respect when talking to parent, teacher, or boss)
Paalam - Goodbye
Puwede mo akong tulungan? - Can you help me?
Salamat - Thank you
Common Filipino Nouns and Pronouns
You'll undoubtedly need to use pronouns and common nouns as you begin to speak the Filipino language.
Ate - Older sister (used as a term of respect for any female older than you are)
Babae - Woman
Barkada - Group of friends
Kanyang - His
Kape - Coffee
Kuya - Older brother (used as a term of respect for any male older than you are)
Lalaki - Man
Pangalan - Name
Sa iyo - You
Sila - They/Them
Siya - He/She
Tubig - Water
Nars - Nurse
Pulis - Police officer
Guro - Teacher
Common Filipino Verbs and Action Words
Learning to conjugate verbs in Filipino is a whole other lesson, but you can start by learning the Filipino root words for some common verbs and action words now.
Maaari - Can
Gumamit - Use
Gumawa - Do
Kain - Eat
Laro - Play
Pumunta - Go
Tumawa - Laugh
Gawa - Make
Makakita - See
The best way to learn any new language is to take lessons from someone who actually speaks that language fluently. You can find online courses for learning Filipino or look for Filipino teachers in your community. Now that you know the basics, check out some of the most beautiful Filipino words to increase your vocabulary. You can also explore idioms in Tagalog and examples of Tagalog poems to see more of this language in action.