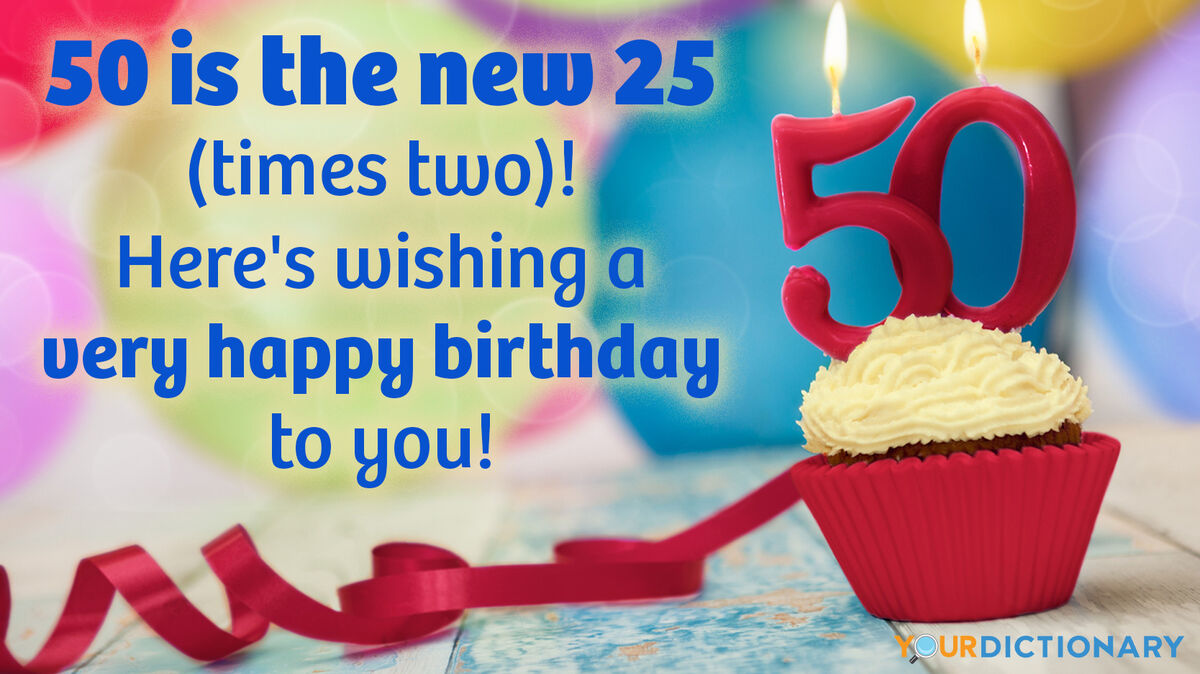 If someone you know is about to celebrate a 50th birthday, take the time to come up with a specialized message that will make their half-century birthday truly memorable! Not sure what to say? That's okay! Just use one (or more) of these 50th birthday quotes.

Funny 50th Birthday Quotes on Aging
Turning 50 can be stressful, but it's actually a milestone to celebrate. These original funny and uplifting 50th birthday quotes, sayings and puns can bring a smile to anyone celebrating their half-century birthday. For more ideas, explore some funny jokes about turning 50.
Happy 50! Isn't it nifty? No need to be shifty; you don't even need a facelift-y!
50 is the new 25 (times two)! Here's wishing a very happy birthday to you!
How do things look from the top of the hill? It's all downhill from here!
Welcome to your vintage years.
In tree years, you're just a babe in the woods.
At 50, you are but a sapling in the great forest of life.
Five-oh, five-oh, it's off to old age you go!
Here's to five decades of trips around the sun!
Happy "I survived middle age" day!
Welcome to 50! How does it feel to be an old-timer?
You're 50 now, you have arrived; youth is behind you, you have survived!
50th Birthday Quotes for a Significant Other
Is that special someone in your life turning 50? Use these original 50th birthday quotes for your husband, wife or significant other.
I can't wait to explore the next half-century together.
I love all five decades of you.
Now you're five perfect 10s.
The year you were born will always be my favorite vintage. Happy 50th!
You might have hit the "big five-oh," but you'll always be my Romeo!
It's an honor to be by your side as you reach the half-century mark.
To me, you have always been a classic. Happy 50th.
The older you grow, the more I know that the love I feel for you is real.
Our love is forever; I look forward to growing older together. Happy 50th.
Here's to 50 decades of you.
50th Birthday Quotes for Family Members
Do you have family members who are turning 50? Whether you're in search of 50th birthday quotes for your mom, dad, siblings, or other relatives, some of these original selections are sure to meet your needs.
What's the best part about being the baby of the family once you hit 50? No one can pick on you about your age! We're all older!

Is this the year you change from fun uncle to old man?

Auntie, now that you're fifty, I still think you're super-nifty!
You're officially a family heirloom now!
Just because you're fifty doesn't mean that you're mature!
Five decades later, you're still my little brother (or sister)!
Mom, it's time to quit telling fibs about your age; if not, I'll be older than you before too much time goes by!
Dad, you're 50 but you're not an old man! Buy yourself a sportscar to prove it, you can. Then loan it to me for posterity!
Welcome to your first day as the family's youngest quinquagenarian!
You're the first to do everything, big sister (or brother); I can't wait for you to share what this new decade brings!
Famous 50th Birthday Quotes
Looking for a time-tested quote that's either a proverb or a line shared by a well-known personality or public figure? Consider these famous 50th birthday quotes.
"I can handle the wrinkles, because every day that I wake up healthy is a gift." - Katie Couric
"I feel that I'm gonna hit my stride in my fifties." - Angelina Jolie

"Wrinkles will only go where the smiles have been." - Jimmy Buffet
"Be courageous and be brave/ And in my heart, you'll always stay/Forever young." - Forever Young by Rod Stewart
"Mostly I get up in the morning and think, 'Hey, I'm still here.'" - Barbara Walters

"The years between fifty and seventy are the hardest. You are always being asked to do things, and yet you are not decrepit enough to turn them down." - T.S. Eliot
"Aging isn't for sissies" - Bette Davis
"Looking fifty is great if you're sixty." - Joan Rivers
"Maybe it's true that life begins at fifty. But everything else starts to wear out, fall out, or spread out." - Phyllis Diller
"At age 50, everyone has the face he deserves." - George Orwell
Turning 50 Quotes and Sayings
You're sure to brighten the day of anyone who's commemorating the half-century mark on their birthday with a fun saying. If you're still looking for more ideas and inspiration, review even more fun and creative messages for birthday wishes.