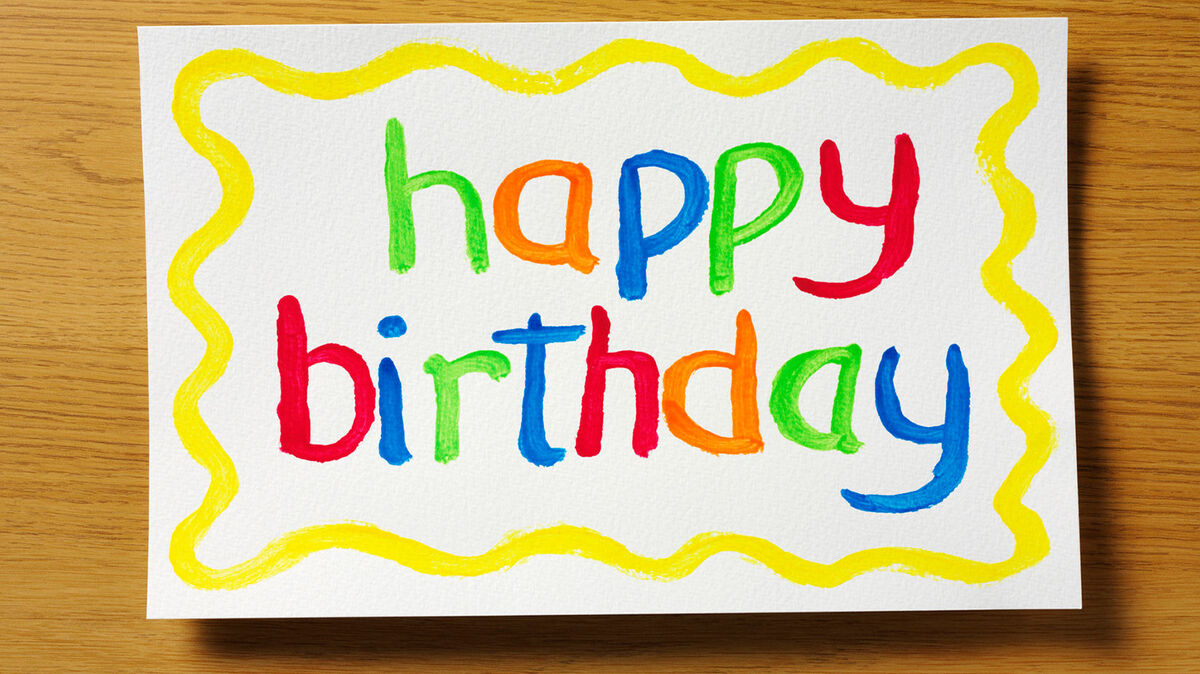 Birthdays come around but once a year. When a special person in your life has a birthday, sometimes it can be hard to know exactly what words will make the big day special. Words for birthday wishes can take many forms; they may be serious or funny. You may even wish to say happy birthday in a foreign language. Choose your favorite birthday wishes to write in a card or use in a toast, whether the celebrant is a teenager or ninety-five.
Famous Quotes for Happy Birthdays
Well-known quotes or popular sayings from celebrity figures can make great birthday greeting messages. There are so many great birthday quotes to consider.
"Age is whatever you think it is. You are as old as you think you are." - Muhammad Ali
"The secret of staying young is to live honestly, eat slowly, and lie about your age." - Lucille Ball
"Age is strictly a case of mind over matter. If you don't mind, it doesn't matter." - Jack Benny
"A diplomat is a man who always remembers a woman's birthday but never remembers her age." - Robert Frost
"Birthdays are really symbolic of how another year has gone by and how little we've grown. - Jerry Seinfeld (in the TV show, not in real life)
"May you live as long as you want and never want as long as you live." - Irish Blessing
Words for Milestone Birthdays
Milestone birthdays call for special greetings that draw special attention to the particular year of the birthday celebration! From becoming a teenager to entering new phases of adulthood, there are plenty of milestones to recognize throughout the journey of life.
Happy 13th birthday to the town's newest teenager!
Happy 13, you are now a teen! Celebrate becoming a teenager in style!
Roses are red, take a picture to tweet. Happy birthday to you, sixteen is so sweet!
Two decades old you are! A teen no more, you're sure to go far!
Twenty-one is the age of responsibility. Give it a few months and you will be wondering why you are in such a hurry to get here.
Let's raise a glass together on your 21st birthday to celebrate your first legal drink!
Here's to your first quarter century on Earth! Happy 25th.
30, 30, it's not too late to paint the town and celebrate!
Happy 30th to the best grown-up I know.
Middle age is knocking on your door! Enjoy your 40th today and look forward to celebrating many more!
Welcome to middle age! Turning 40 is all the rage!
You're not fifty yet. You're $49.95. Happy Birthday.
It's so nifty that you're turning 50!
I have a special invitation for you on your 50th birthday — to join AARP!
Age is a state of mind. Happy 60th!
Another decade has passed, time goes by so fast. Your 60th decade is here, which makes you to me, all the more dear!
As one year draws to a close with the new one so newer, the world is better because you are here, just getting started on your 70th year.
It's an honor to wish a happy birthday to such a lovely octogenarian.
You're 80 today. Know what that means? You can do anything you want! Have a great birthday!
Celebrate 90 in style!
A super celebration is called for as you enter triple digits. Happy 100th to you!
"The man who views the world at fifty the same as he did at twenty has wasted thirty years of his life" - Muhammad Ali
"At the age of twenty, we don't care what the world thinks of us; at thirty, we worry about what it is thinking of us; at forty, we discover that it wasn't thinking of us at all" - Unknown
Happy Birthday Wishes for Friends
Whether you're looking for birthday greetings to deliver to a great friend in person, via text, on social media, or any other way, consider these fun and thoughtful options. These messages also work great for brothers and sisters in addition to friends.
I wish for you every happiness and joy your heart desires as you celebrate your birthday.
Happy birthday my friend; may your party never end.
Welcome to your birthday road trip! We'll celebrate in style, mile after mile!
My birthday present to you is another year of being friends with me! Aren't you lucky?
On your birthday, today, I wish you a year with loads of fun, excitement and beautiful memories. Happy birthday.
Birthdays are nature's way of telling us to eat more cake.
A birthday only happens once in a lifetime. Today, I am celebrating the anniversary of your birth.
You are a good friend and even better person. May God bless you with wonderful times ahead. Happy Birthday and thanks for the friendship we share.
What a blessing it is to be your friend on your special day and always.
The friend is the man who knows all about you, and still likes you. I still like you. Happy birthday.
I wish for you to have people to love, people in your life who will care about you as much as I do. Happy birthday.
You've been my friend for ___ birthdays. I've been yours for ___. I win-so happy birthday.
Happy birthday, my friend. I can't imagine celebrating with anyone else.
I'm so proud of all you've accomplished, but I'm more proud that you're my friend. Happy birthday.
Romantic Happy Birthday Wishes
Whether you're looking for something to say to your boyfriend, girlfriend or spouse, one of these romantic messages might provide exactly the right tone. Be sure to compliment the person in your message as a way of letting that special someone know how much love you feel in your heart.
Happy birthday to the person who makes life worth living.
As you start another trip around the sun, I want to make sure you know that you're the center of my universe.
The day you were born became the luckiest day of my life.
I will always love you to the moon and back, no many how many trips you take around the sun.
What a special thing to celebrate another trip around the sun with you, my love.
I'm lucky to have your love in my life and can't wait to fill this new year in your light with laughter and light.
Falling in love with you was easy. Staying in love with you is easier. Happy birthday. I can't wait until next year.
Being in love doesn't make me happy. It's being in love with you, year after year, that does the trick.
With each year, I love you even more. Happy birthday, darling.
Growing older with you is the greatest source of joy in my life. I celebrate you today and every day.
You're not growing older. You're growing better. I love you! Happy birthday.
We're one year closer to growing old together. It's just what I've always dreamed.
I never thought we'd make it this far, but now I know that we'll keep going forever. Happy birthday, baby.
I already gave you my heart ___ years ago, this year all I can give you is a simple wish: Happy Birthday. And I hope you're happier and more in love with me than you were last year.
No matter how old someone turns on their birthday, they'll be older that day than the day before. If you're looking for birthday wishes with an old age twist, these sayings just might do the trick.
"Over the hill" is a relative term-but here's a sled, just in case. Happy Birthday!
Statistics have proven that those who have the most birthdays live the longest. You're statistically guaranteed to have a happy birthday.
Growing old is mandatory. Growing up, however, is optional. Happy Birthday, old friend!
At this point, you probably want to forget your birthday. Fortunately, I haven't. Happy ____th Birthday!
So many birthdays. So few candles. Next year, may your birthday wish be a bigger cake.
Let's take a birthday photo. Smile while you've still got the teeth!
In spite of the advances in science, we've still found no cure for excessive birthdays. Happy Birthday, hope to see you next year!
Old age isn't so bad. After all, consider the alternative. Happy Birthday.
You are the perfect age, and always will be. Why? Because you'll always be older than me!
If you missed out on the chance to wish someone a happy birthday on the actual day, you don't have to wait an entire year for another chance. Send belated birthday greetings instead.
I'm late to the game, so sorry — I'm ashamed. Let me wish you a happy birthday later than planned.
The ship has sailed, the band has played; please accept my birthday greetings, however delayed.
So sorry I'm late to recognize your special day; hope you had a super-terrific birthday is what I'd like to say.
Forget your past — it's already done. Forget your present, too; because I forgot to get you one. Happy Birthday!
Happy birthday. Wait, that was last week? Guess I'm getting old!
I hope your birthday was as special as you are.
If I couldn't be the first one to wish you, at least I can be the last one to cross your mind this birthday! Happy Belated Birthday. I hope you had an amazing day!
Saying Happy Birthday in Different Languages
For a creative twist, consider wishing friends, family members, classmates, or colleagues happy birthday in a unique way in a different language than either of you speak. There are as many ways to say happy birthday in different languages as there are languages in existence.
veels geluk met jou verjaarsdag (Afrikaans)
ois guade winsch i dia zum gbuadsdog (Austrian)
chestit rojden den (Bulgarian)
sun yat fai lok (Cantonese)
qu ni sheng er kuai le (Mandarin)
tillykke med fodselsdagen (Danish)
palju onne sunnipaevaks (Estonian)
tavalodet mobarak (Farsi)
bonne fete (French)
haerzliche glueckwuensche zum geburtstag (German)
hau`oli la hanau (Hawaiian)
yom huledet same'ach (Hebrew)
boldog szuletesnapot (Hungarian)
buon compleanno (Italian)
quchjaj qoslij (Klingon)
fortuna dies natalis (Latin)
torson odriin mend hurgee (Mongolian)
gratulerer med dagen (Norwegian)
parabens (Portuguese)
feliz cumpleanos (Spanish)
brigo or ahnyotho (Syriac)
chuc mung sinh nhat (Vietnamese)
a freilekhn gebortstog (Yiddish)
Share Special Birthday Greetings
Celebrate the annual milestones in the lives of your friends and family with a personalized message featuring one or more of these phrases or sayings. Any of these words for birthday wishes can brighten any birthday. After all, the best wishes for a birthday are really simple, heartfelt wishes. Now that you have plenty of ideas for how to say happy birthday, take your game to the next level by mastering the art of birthday speech writing.