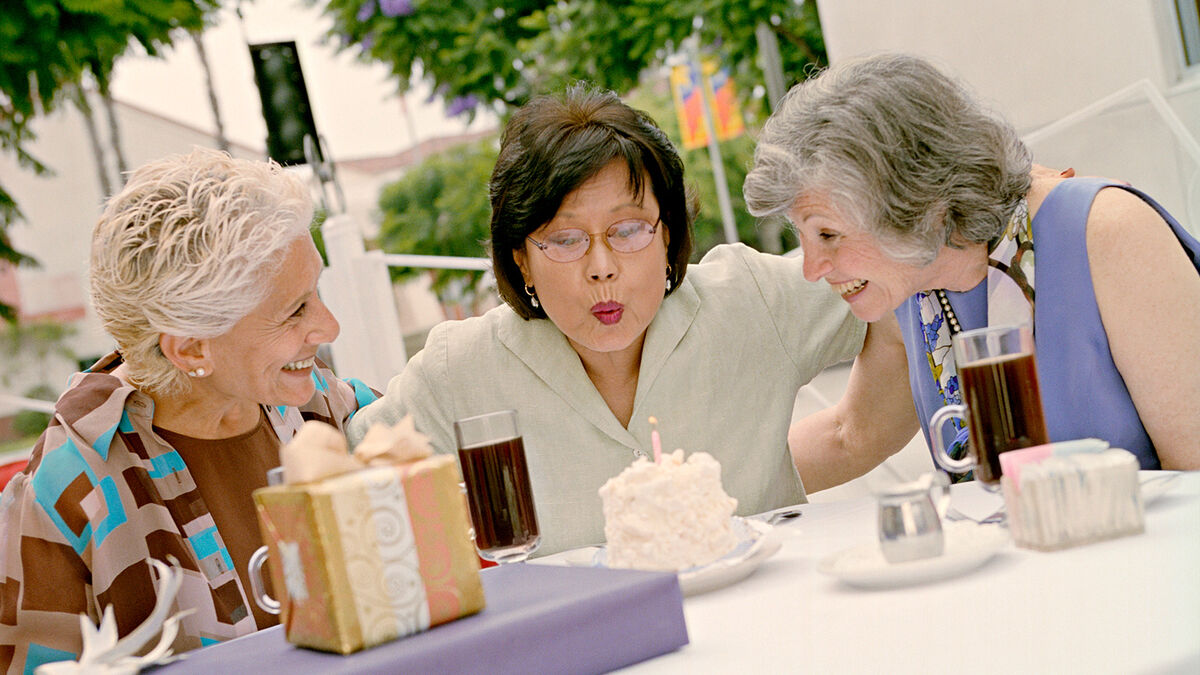 Having a 60th birthday is definitely cause for celebration. Whether you're planning a 60th birthday speech, writing a card, giving a toast, or simply need to wish someone well on this special day, these inspirational words will help.
Finding the Right Words for a 60th Birthday Speech
If you've been tasked with writing a speech for someone's 60th birthday, don't stress. Birthday speech writing is mostly about being specific and keeping it short.
What Do You Say in a 60th Birthday Speech?
You may need inspirational words for a 60th birthday toast or speech. A speech could include:
the honoree's achievements
favorite hobbies or things he likes to do
what was happening on the day that he was born
information about his early years
60th Birthday Speech Example
Sometimes, you need an example speech to help you get inspired.
When I look at you tonight, I see someone who is up for anything. Literally. When I asked you last year if you wanted to go skydiving with me, you didn't hesitate. You simply signed the waiver and went up in the plane with me. I was terrified! But when I looked to see if you were worried too, you just smiled at me and jumped out of the plane with the instructor. I screamed all the way down, but you didn't. You just greeted me on the ground with some of your trademark gentle teasing.

You've had so many adventures in your life, and this is just the beginning. You enter your sixth decade with so much vitality and openness to new experiences. I've never met anyone with more enthusiasm for life. You're ready for anything and it's infectious. You make everyone's life more exciting with your great ideas and willingness to simply say "yes."

You're an inspiration, and I hope you have an amazing 60th birthday. It's an honor to be your friend.
Writing a Funny 60th Birthday Speech
Writing a 60th birthday speech or a special message doesn't have to be serious. Sometimes it is fun to have a "roast" where people say a few words about the guest of honor. These don't have to be insulting, just funny or mildly teasing.
Here are some famous birthday quotes you might use.
"The best speech makers follow three simple rules: Stand Up, Speak Up, and then very quickly, Shut Up." - Anonymous
"God grant me the senility to forget the people I never liked, the good fortune to run into the ones I do, and the eyesight to tell the difference." - Anonymous
"To get back my youth I would do anything in the world, except take exercise, get up early, or be respectable." - Oscar Wilde
"One starts to get young at the age of sixty and then it is too late." - Pablo Picasso
You can also insert humor that's specific to the person. You might share:
a funny moment you had together
something the person used to say about "old" people
funny tips on life that apply to the guest of honor
funny quotes about life that will make everyone laugh
What to Write in a 60th Birthday Card
You may also need words for a 60th birthday card you send, a card that accompanies a present, or an email. You can use best wishes quotes that apply to any birthday or try one of these more specific options:
"Here's to 60 trips around the sun! Hope today and all your future days are just as bright!" - Anonymous
"You're not getting older...just more distinguished!" - Anonymous
"Youth is a work of nature, but age is a work of art! Congratulations on your second childhood!" - Anonymous
"Just like fine wine, you grow better with the years!" - Anonymous
"You can't help getting older, but you don't have to get old." - George Burns
"Age is strictly a case of mind over matter. If you don't mind, it doesn't matter." - Jack Benny
"I'm sixty years of age. That's 16 Celsius." - George Carlin
"You are only young once, but you can stay immature indefinitely." - Ogden Nash
60th Birthday Celebration Ideas
If you are planning a celebration for someone turning 60, these ideas can help:
You might want to put one of these headings on the invitations: The Big 6-0, Sexy Sixty, Sweet Sixty, or Sixty is Nifty.
The theme of the party needs to be something the honoree would like, maybe a retro party back to his teenage years. You could play music from that era, or even have a trivia game about things that happened in his youth.
When planning the food, be sure to have options for those with dietary restrictions, like low sodium choices. Self serve is always good, and one idea would be to have a buffet where the guests could make their own sandwiches.
For dessert, it might be nice to have 60 cupcakes served on a party tray with tiers instead of a cake. If you have a cake, remember you can get a candle that says "60" or two candles that say "6" and "0."
When it comes to words for birthday wishes, remember: The best words come from the heart. Whether they are funny or serious, they will be long remembered because you were sincere.