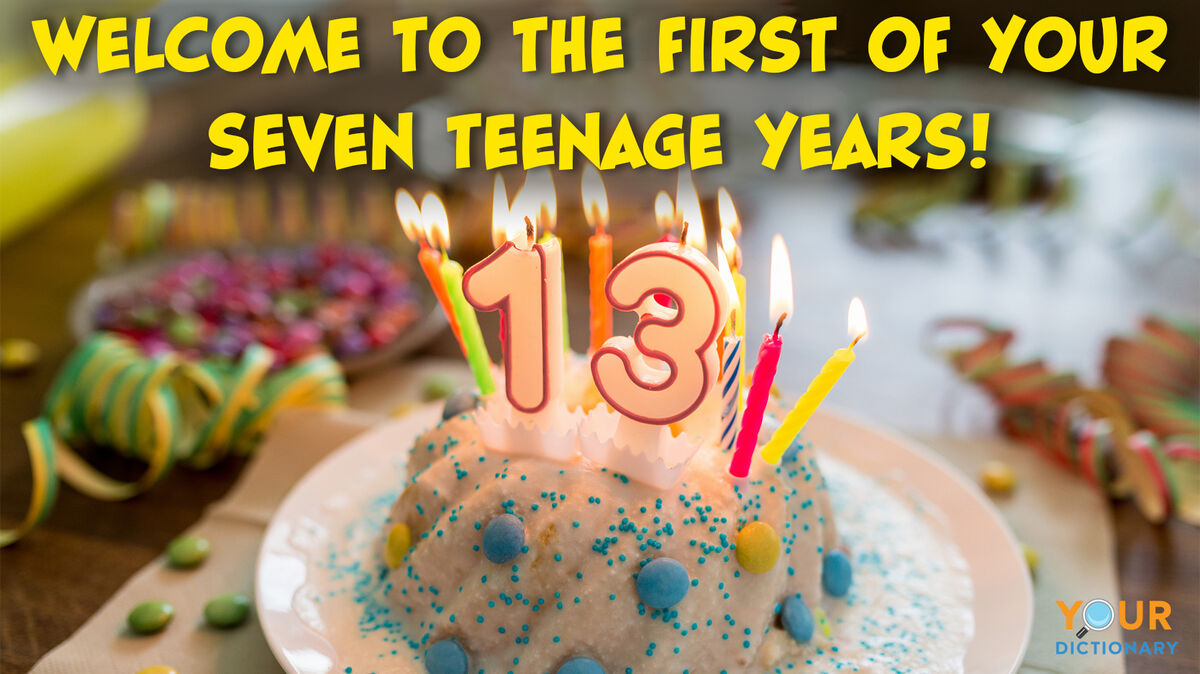 Is a special tween in your life about to become a teenager? Help them mark this momentous birthday by showing how much you care. Whether you're looking for the right thing to say in a birthday card or you're planning on giving an age-appropriate toast at the party, use these 13th birthday quotes to express happy birthday wishes or share words of wisdom.
Happy 13th Birthday Wishes
When you're looking for the right way to say happy birthday to a brand new teenager, consider one of these original turning 13 quotes for teens.
Welcome to the first of your seven teenage years!
Happy birthday to the youngest teenager in my life!
Lucky thirteen looks good on you!
Today is the first day of your life as a teenager. Make it a great one!
No longer a tween, how exciting that you're turning 13! Happy birthday!
Becoming a teenager is a once-in-a-lifetime experience! Celebrate and enjoy the big 1-3!
I'm honored to know you and am excited to see what comes next. Happy 13th!
Happy birthday as you enter your 13th year! I wish you happiness and joy in life.
Celebrate 13 with joy and anticipation for your teenage years. I wish you many more birthdays to bring you delight.
Blessings to you as you enter your teenage years. Wishing you love and joy on your 13th birthday.
Short Rhyming 13th Birthday Sayings
Looking for something more poem-like? One of these original, brief rhyming sayings might be the perfect birthday quote for the new teenager in your life.
From an awesome kid to a fabulous teen, what waits for you next remains to be seen. Happy birthday.
Childhood is where you've been, your teenage years remain to be seen. That's where you venture today, on what I hope is a wonderful birthday.
Your teenage years will pass faster than you think. Welcome to young adulthood; you're on the brink. Celebrate your special day your way. Here's to you, happy birthday and cheers!
Thirteen years you've been alive, just three more years and you'll be legal to drive. Have a special day!
Sweet 13, welcome to seven years of being a teen!
The milestones in life, how fast they do come. From christening to toddler fun, then school now a teen you are one. Enjoy this milestone!
Happy birthday to you, the teen years are so few. As you start this new year, your future draws near. it's so very bright! Happy birthday to you all of this day and night.
Cherish every day of your 13th year; each moment is precious, each lesson is dear. Happy birthday to you; celebrate today. Make it special; enjoy it in your own special way.
Hooray! Celebrate being a teen! How exciting for the future to be ahead unseen! Enjoy today come what may; celebrate and look forward to many more happy birthdays!
Thirteen candles on your birthday cake? What kind of teenage wish will you make?
You've come so far in 13 short years; look to the future filled with hopes and maybe a few fears. This year of your life is yours to live. Wishes for a happy birthday are what I wish to give.
Words of Wisdom for a 13-Year-Old
Depending on your relationship with the new teenager, you might want to share some words of wisdom on this momentous occasion. Whether you choose a famous birthday quote or an original quote, your thoughtful words are sure to be appreciated.
Enjoy every moment of your teenage years. The teen years are your path to becoming the grown-up you are meant to be.

Now that you're a teenager, hang on to the wonder of childhood as you start this new phase of life. Enjoy today while growing toward tomorrow.
As you celebrate your passage from child to teen, don't lose sight of where you've been. Celebrate today and look toward tomorrow; life has wonderful things in store for you.
My advice to you as you enter your 13th year: You are special and important just the way you are. Grow into yourself but don't let the world change you.
Now that you're a teenager, I'd like to say enjoy youth for all it has to offer. Relish these years and take your time charting your course to the adult you will one day become. Happy birthday.
Celebrate being 13. Wherever you go, far or near, remember the excitement of this day, the possibility you feel. Hope and joy and kindness and love; these are my wishes for you.

You've entered the in-between years, a bridge from childhood to adulthood. You've come so far with so much more to learn and grow. I am more proud of you than you'll ever know.
Celebrate today as you take your first step into your teenage years. The future is forward, but the past is inside you. Let both guide you into becoming the person you were meant to be.
The future is uncertain; that's how it should be. Make plans but don't let today pass you by because you're too focused on the future. Live your life and be yourself.
13th Birthday Quotes From a Parent
When you're celebrating the 13th birthday of your child, the occasion calls for a special quote that sums up the unique parent/child relationship you share. These original sayings can be used by any individual parent, or both parents together.
As you become a teenager, I want to let you know how proud I am of who you are and all that you will become. Have an incredible birthday.
My baby girl, I wish you all the love in the world. Today you are becoming a teen; of my life, you will always be the queen. Have a royal birthday!
The milestones in your life bring me joy; you're a teenager today but you'll always be my baby boy. Happy birthday, my son.
Watching you grow from infancy to young adulthood has been the greatest privilege of my life. Happy first teenage birthday.
As you celebrate becoming a teen, I celebrate the day you were born. How empty life without you would have been. Have an incredible 13th birthday!
You're turning 13 today; to me it seems you were born yesterday. My life is better because you're in it. Enjoy your day, every little minute.
Thank you daughter (or son) for bringing light into my life. My heart is full of love and wishes for you as you enter your teenage years.
The road ahead of you is wide open. Go forward with excitement and know that I'll always be there for you. Much love on your 13th birthday.
My heart is full of love and pride for you, my child, the newest teenager in our family. I wish you the happiest birthday possible.
Child of mine, my heart you own. So little you were, now you're nearly grown. Have a fabulous 13th birthday of your very own.
13th Birthday Wishes From an Aunt or Uncle
When your niece or nephew is turning 13, it's a great time for you to share a lovely greeting that expresses your pride and love, while also bringing a smile to their face. You can use these original quotes as is, or tweak them to make them your own.
What's the secret to having a great time as a teenager? Being the favorite niece (or nephew) of the coolest aunt (or uncle) in the world! Happy birthday.

What a lovely young lady you have grown to be, my niece. I'm proud to be your aunt (or uncle). Happy 13th birthday.

Nephew of mine, the candles on your cake they do shine. What a privilege to share your life as you grow into a fine young man. Happy 13th birthday.
I was there when you were born; it seems like yesterday and a lifetime at the same time. Today, I wish you an incredible 13th year.
Nephew (or niece), no matter how old you get to be, you and I will always be family! Welcome to your teenage years. Happy birthday.
Happy birthday to the family's newest teenager. I'll always be older than you, but you just might turn out to be wiser than me. Happy birthday!
Our family is better and stronger because you're here; it's so awesome to be with you to celebrate your 13th year!
Words cannot express the joy you have brought to our family. I'm so proud to call you my nephew (or niece). Happy 13th!
It has been a pleasure to watch you grow into the fine young adult you've become. From the bottom of my heart, happy 13 birthday to you.
How did I get so lucky as to have you for a niece (or nephew)? You have grown from an awesome kid into an even more awesome young adult. I am proud of you. Happy birthday.
Finding the right words to encourage a newly-minted 13-year-old just requires you to speak from your heart. Think about your relationship with the new teen as you select 13th birthday quotes or sayings to use, taking care to choose one with an appropriate tone and message. For more ideas and inspiration, check out these fun and creative messages for birthday wishes.