elder

el·der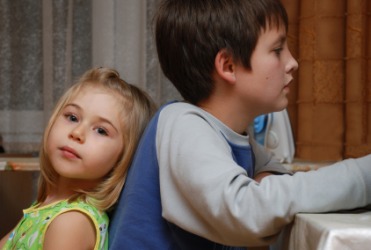 A little girl with her elder brother.
adjective
Elder means being older than others.

An example of elder used as an adjective is in the phrase "the elder member of the family," which means the oldest member of the family.
noun
The definition of an elder is an older person or an ancestor.

An example of an elder is a 95 year old man.
---
elder
born or brought forth earlier than another or others; exceeding another in age; senior; older

Obs.

of longer standing or superior rank, position, validity, etc.

Now Rare

earlier; former; ancient
Origin of elder
Middle English from Old English (Mercian)
eldra
,
ældra
, comparative from base of
ald
,
eald
, old
an older person
an aged person
a forefather; ancestor; predecessor
an older person with some authority or dignity in a tribe or community

an officer in an early Christian church
in some Protestant churches, a minister; also, a member appointed to the ruling body who may also assist at Communion

Mormon Ch.

a member of the Melchizedek priesthood
any of a genus (Sambucus) of shrubs and small trees of the honeysuckle family, with compound leaves and flat-topped clusters of small white flowers followed by red or purple berries
any of various unrelated plants, as the box elder or the marsh elder
Origin of elder
Middle English
ellerne
and (with intrusive
-d-
as in alder)
eldore
from Old English
ellern
,
ellen
, akin to Middle Low German
ellern
,
eldern
from Indo-European base an unverified form
el-
from source elm, alder, Classical Latin
alnus
, elder
---
elder
adjective
Greater than another in age or seniority.
Archaic Superior to another or others, as in rank.
noun
An older person.
An older, influential member of a family, tribe, or community.
One of the governing officers of a church, often having pastoral or teaching functions.
Mormon Church A member of the higher order of priesthood.
Origin of elder
Middle English
eldre
from
Old English
eldra
; see
al-
2
in Indo-European roots.
Related Forms:
Usage Note: In comparisons between two persons, the adjective elder is simply a more formal term for "older" and has no implication of advanced age: My elder sibling is fourteen; my younger is nine. In other contexts it does denote relatively old age, but with the added component of respect for a person's position or achievement: an elder statesman; an elder member of the court. If the simple fact of advanced or relatively advanced age is the point, older or elderly are usually more appropriate than elder: a survey of older Americans; an elderly waiter. • As with the adjective, the noun elder can be used comparatively without implying old age: He is my elder by three years. It can also refer to an office in certain churches or, more broadly, to a position of authority or respect conferred by age and experience: an elder in the Presbyterian Church; a tribal elder. The use of elder in the sense of "an elderly person" is uncommon in contemporary English, though it is widely used as an attributive in such phrases as elder care (or eldercare ) and elder services. See Usage Note at old.
noun
Origin of elder
Middle English
eldre
from
Old English
ellærn
---
elder

---