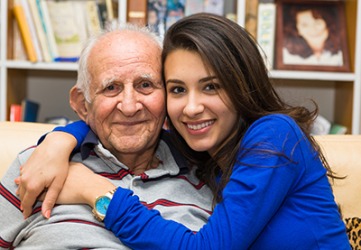 Even though he doesn't remember her, Allysa visits her senile grandfather every Sunday because it brings him so much joy in that moment.
adjective
Senile is defined as memory loss or confusion as a result of old age.

When an old person is no longer able to remember things, this can be an example of someone who issenile.
---
senile
of, typical of, or resulting from old age: now chiefly medical
showing the marked deterioration often accompanying old age, esp. mental impairment characterized by confusion, memory loss, etc.

Geol.

nearing the end of an erosion cycle
Origin of senile
Classical Latin
senilis
from
senex
, old: see senate
---
senile
adjective
a. Relating to or having diminished cognitive function, as when memory is impaired, because of old age.

b. Being a disease or condition whose cause is primarily advanced age: senile cataracts.

Geology At the end of an erosion cycle: senile soil.
Origin of senile
Latin
senīlis
proper to or characteristic of old people, aged
from
senex
sen-
old
; see
sen-
in Indo-European roots.
Related Forms:
---
senile

Origin
From Old French senile, from Latin senÄ«lis ("of or pertaining to old age"), from Latin senex ("old"), from Gaulish and Proto-Indo-European *sénos ("old").
---