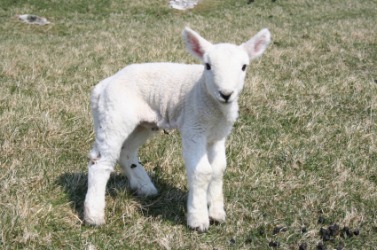 A feeble newborn lamb.
adjective
The definition of feeble is someone who is weak or a half-hearted attempt or something that is faint or unconvincing.

An example of feeble is an old person who is sick and who can't get out of bed on her own.
An example of feeble is using the excuse that your car broke down when you are late even though the person who you are meeting knows your car is fine.
An example of feeble is trying for only one second to solve a problem before giving up.
---
feeble
adjective
-·bler

,

-·blest
weak; not strong; specif.,
infirm: a feeble old man
without force or effectiveness: a feeble light, a feeble attempt
easily broken; frail: a feeble barrier
Origin of feeble
Middle English
feble
from Old French
faible, feble
from Classical Latin
flebilis
, to be wept over from
flere
, to weep from Indo-European base an unverified form
bhl?-
, to howl from source bleat, blare
---
feeble
adjective
fee·bler, fee·blest
a. Lacking bodily strength; weak: too feeble to climb the hill.

b. Having little intensity or strength; faint: feeble light; a feeble voice.

Having little capacity to withstand pressure or strain: the castle's feeble defenses.

a. Lacking vigor or effectiveness; inadequate: a feeble attempt to apologize.

b.

Showing little activity:

a feeble housing market.

See Synonyms at

weak

.
Origin of feeble
Middle English
feble
from
Old French
from
Latin
flēbilis
lamentable
from
flēre
to weep
Related Forms:
---
feeble

Verb
(third-person singular simple present feebles, present participle feebling, simple past and past participle feebled)
(obsolete) To make feeble; to enfeeble.
Origin
From Middle English feble, from Anglo-Norman feble ("weak, feeble"), from Latin flēbilis ("tearful, mournful, lamentable"), from flēre ("to weep"), akin to fluere ("to flow"); see fluent.
---