faint

faint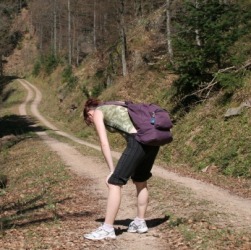 This woman feels faint.
adjective
The definition of faint is something without strength such as a very quiet sound or a very light color.

An example of faint is a very pale yellow painted on a wall.
verb
To faint is defined as to pass out or to lose consciousness for a period of time.

An example of faint is when you see a baby being born and you pass out from the excitment, falling to the floor in the delivery room.
---
faint
without strength; weak; feeble
without courage or hope; timid
done without strength, vigor, or enthusiasm; halfhearted
feeling weak and dizzy, as if about to swoon
dim; indistinct; unclear
far from certain: a faint chance
Origin of faint
Middle English
feint
from OFr, sluggish, origin, originally past participle of
feindre
: see feign
a condition of temporary loss of consciousness as a result of an inadequate flow of blood to the brain; swoon
[pl.] the crude, impure spirits given off in the first and last stages of the distillation of liquor
to fall into a faint; swoon: often with away

Archaic

to weaken; languish
to lose courage or hope
---
faint
adjective
faint·er, faint·est
a. Done with little strength or vigor; feeble: a faint attempt to apologize.

b. So weak as to be difficult to perceive; a faint light in the distance; a faint echo.

c. Lacking clarity or distinctness: a faint recollection.

d. Small in degree or amount; meager: faint chance of getting a raise.

Lacking conviction, boldness, or courage; timid: a tourist who is faint at heart.
Likely to fall into a faint; dizzy and weak: felt faint for a moment.
noun
An abrupt, usually brief loss of consciousness, generally associated with failure of normal blood circulation.
intransitive verb
faint·ed, faint·ing, faints
To fall into a usually brief state of unconsciousness.
Archaic To weaken in purpose or spirit.
Origin of faint
Middle English
deceitful, cowardly
from
Old French
past participle of
feindre
to feign
; see
feign
.
Related Forms:
---
faint

Adjective
(comparative fainter, superlative faintest)
Lacking strength; weak; languid; inclined to swoon; as, faint with fatigue, hunger, or thirst.
Wanting in courage, spirit, or energy; timorous; cowardly; dejected; depressed.

"Faint heart ne'er won fair lady." Robert Burns - To Dr. Blackjack.

Lacking distinctness; hardly perceptible; striking the senses feebly; not bright, or loud, or sharp, or forcible; weak; as, a faint color, or sound.
Performed, done, or acted, in a weak or feeble manner; not exhibiting vigor, strength, or energy; slight; as, faint efforts; faint resistance.
Noun
(plural faints)
The act of fainting.
(rare) The state of one who has fainted; a swoon.
Verb
(third-person singular simple present faints, present participle fainting, simple past and past participle fainted)
(intransitive) To lose consciousness. Caused by a lack of oxygen or nutrients to the brain, usually as a result of a suddenly reduced blood flow (may be caused by emotional trauma, loss of blood or various medical conditions).
To sink into dejection; to lose courage or spirit; to become depressed or despondent.
To decay; to disappear; to vanish.
Origin
From Middle English, from Old French feindre, faindre ("to feign, to sham, to work negligently"), from Latin fingere ("to touch, handle, usually form, shape, frame, form in thought, imagine, conceive, contrive, devise, feign").
---