feign

feign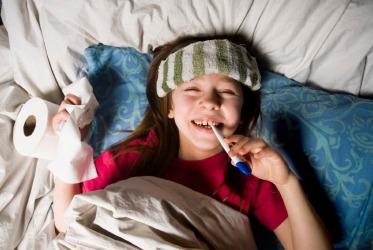 A little girl feigns illness.
verb
To feign is defined as to make up a story or act in a way that you don't feel.

An example of to feign is to seem like you're sick to get out of going to school.
---
feign
Obs.

to form; shape
to make up (a story, excuse, etc.); invent; fabricate
to make a false show of; pretend; imitate; simulate

Archaic

to imagine
Origin of feign
Middle English
feinen
from Old French
feindre
(prp.
feignant
) from Classical Latin
fingere
, to touch, handle, shape: see figure
---
feign
verb
feigned, feign·ing, feigns
verb
transitive
a. To give a false appearance of: feign sleep.

b. To represent falsely; pretend to: feign authorship of a novel.

To imitate so as to deceive: feign another's voice.
To fabricate: feigned an excuse.
Archaic To invent or imagine.
verb
intransitive
To pretend; dissemble.
Origin of feign
Middle English
feinen
from
Old French
feindre
from
Latin
fingere
to shape, form
; see
dheigh-
in Indo-European roots.
---
feign

Verb
(third-person singular simple present feigns, present participle feigning, simple past and past participle feigned)
To make a false copy or version of; to counterfeit.

The pupil feigned sickness on the day of his exam.
They feigned her signature on the cheque.

To imagine; to invent; to pretend.

He feigned that he had gone home at the appointed time.

To make an action as if doing one thing, but actually doing another, for example to trick an opponent.
To hide or conceal.

Jessica feigned the fact that she had not done her homework.
Origin
From Middle English, from Old French feindre ("to pretend"), from Latin fingere ("to form, shape, invent").
---