pretend

pre·tend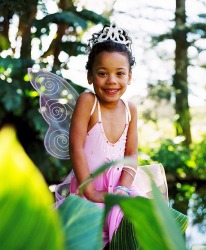 Annabelle dressed up in her halloween costume from last year and pretended that she was a forest fairy.
verb
To pretend is defined as to claim, to make believe or imitate.

An example of to pretend is to say that you don't know the source of a mistruth.
An example of to pretend is a little girl dressing up like a fairy.
An example of to pretend is a gay man bringing a woman home to his parents and acting like she's his girlfriend.
---
pretend
to claim; profess; allege: to pretend ignorance of the law
to claim or profess falsely; feign; simulate: to pretend anger
to make believe, as in children's play: to pretend to be astronauts
Origin of pretend
Middle English
pretenden
, to intend from Middle French
pretendre
from Classical Latin
praetendere
, to hold forth, allege from
prae-
, before +
tendere
, to stretch: see thin
to lay claim: to pretend to a throne
to make believe in play or in an attempt to deceive; feign
Informal
make-believe:
pretend jewelry
---
pretend
verb
pre·tend·ed, pre·tend·ing, pre·tends
verb
transitive
To give a false appearance of; feign: "You had to pretend conformity while privately pursuing high and dangerous nonconformism" ( Anthony Burgess )
To claim or allege insincerely or falsely: doesn't pretend to be an expert.
To represent fictitiously in play; make believe: pretended they were on a cruise.
To take upon oneself; venture: I cannot pretend to say that you are wrong.
verb
intransitive
To feign an action or character, as in play.
To lay claim: pretends to gourmet tastes.
adjective
Informal
Imitation; make-believe: pretend money; pretend pearls.
Origin of pretend
Middle English
pretenden
from
Old French
pretendre
from
Latin
praetendere
prae-
pre-
tendere
to extend
; see
ten-
in Indo-European roots.
---
pretend

Verb
(third-person singular simple present pretends, present participle pretending, simple past and past participle pretended)
Usage notes
This is a catenative verb that takes the to infinitive.
Origin
From Anglo-Norman pretendre, Middle French pretendre (French prétendre ("to claim, demand")), from Latin praetendere, present active infinitive of praetendō ("put forward, hold out, pretend"), from prae- ("pre-") + tendō ("stretch"); see tend.
---