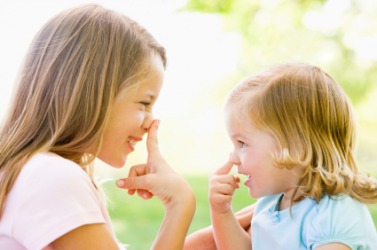 A little girl mimics her big sister.
adjective
The definition of mimic is make-believe.

An example of something mimic is a pretend trial in a law class.
verb
To mimic is defined as to imitate or to copy.

An example of to mimic is for a child to imitate everything her old sister does.
---
mimic
inclined to copy; imitative
of, or having the nature of, mimicry or imitation
make-believe; simulated; mock: mimic tears
Origin of mimic
Classical Latin
mimicus
from Classical Greek
mimikos
from
mimos,
actor
a person or thing that imitates; esp., a performer skilled in mimicry
transitive verb
mim′icked

,

mim′ick·ing
to imitate in speech or action, often so as to ridicule
to copy closely; imitate accurately
to resemble closely; have or take on the appearance of: an animal's natural coloration that mimics the foliage
---
mimic
transitive verb
mim·icked, mim·ick·ing, mim·ics
a. To copy or imitate closely, especially in speech, expression, and gesture: a girl who naturally mimics her older sister.

b.

To copy or imitate so as to ridicule; mock:

always mimicking the boss.

See Synonyms at

imitate

.

To reproduce or simulate: "Scientists figured out how to mimic conditions in the bowels of the earth and began fabricating … synthetic diamonds" ( Natalie Angier )

a. To resemble by biological mimicry: an insect that mimics a twig.

b. To have a similar structure, action, or effect as: a drug that mimics a compound in the body.

c. To produce symptoms like those of (a disease).

d. To produce (symptoms) like those produced by a different disease.
noun
One that imitates, especially:
a. One who copies or mimics others, as for amusement.
b. One who practices the art of mime.
c. An organism that resembles another by mimicry.
d. A chemical having a structure, action, or effect like that of another.
e. A disease or disorder producing symptoms like those of another.
adjective
Relating to or characteristic of a mimic or mimicry.
Make-believe; mock: a mimic battle.
Origin of mimic
From
Latin
mīmicus
mimic
from
Greek
mīmikos
from
mīmos
imitator, mime
Related Forms:
---
mimic

---