verb
Imitate is defined as to copy or use something as a model.

An example of imitate is for a child to copy his older sibling's every move.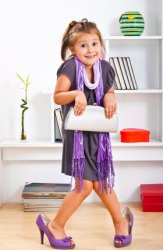 A little girl imitates her mother.
---
imitate definition by Webster's New World
transitive verb
imitated, imitating
to seek to follow the example of; take as one's model or pattern
to act the same as; impersonate; mimic
to reproduce in form, color, etc.; make a duplicate or copy of
to be or become like in appearance; resemble: glass made to imitate diamonds
Origin: ; from Classical Latin imitatus, past participle of imitari, to imitate, akin to aemulus: see emulate
---
imitate definition by American Heritage Dictionary
transitive verb
im·i·tat·ed
,
im·i·tat·ing
,
im·i·tates
To use or follow as a model.

a. To copy the actions, appearance, mannerisms, or speech of; mimic: amused friends by imitating the teachers.

b. To copy or use the style of: brushwork that imitates Rembrandt.

To copy exactly; reproduce.
To appear like; resemble.
Origin: Latin imitārī, imitāt-; see aim- in Indo-European roots.
Related Forms: