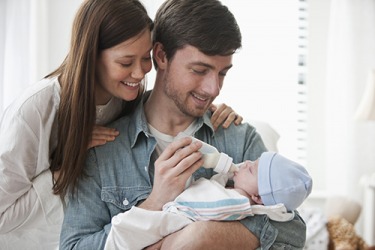 These new parents wanted to reproduce to carry on the family name.
verb
Reproduce is defined as to make again, recreate or give birth to.

An example of reproduce is making a copy of a recipe from a cookbook.
An example of reproduce is figuring out the ingredients of your favorite salsa and making it at home.
An example of reproduce is having a baby.
---
reproduce
transitive verb
-·duced′

,

-·duc′ing
to produce again; make, form, or bring into existence again or anew in some way; specif.,
to produce by generation or propagation; bring forth one or more other individuals of (the kind or species) by sexual or asexual processes
to make (a lost part or organ) grow again
to bring about or promote the reproduction of (plants or animals)
to make a copy, close imitation, duplication, etc. of (a picture, sound, writing, etc.)
to bring (a past scene, etc.) before the mind again; re-create mentally by imagination or memory
to repeat
to produce offspring; bring forth others of its kind
to undergo reproduction, or copying, duplication, etc.
---
reproduce
verb
re·pro·duced, re·pro·duc·ing, re·pro·duc·es
verb
transitive
To produce again or anew; re-create: The lab failed to reproduce their original results. The movie reproduces life in the 1950s.
To produce a copy, imitation, or representation of: reproduce the sounds of a live concert in a recording.
To generate (offspring) by sexual or asexual means.
To bring (an event in one's memory, for example) to mind again; recall.
verb
intransitive
To generate offspring.
To undergo copying: graphics that reproduce well.
Related Forms:
re′pro·duc′i·bil′i·ty

noun
re′pro·duc′i·ble

adjective
---
reproduce

Verb
(third-person singular simple present reproduces, present participle reproducing, simple past and past participle reproduced)
---