destroy

de·stroy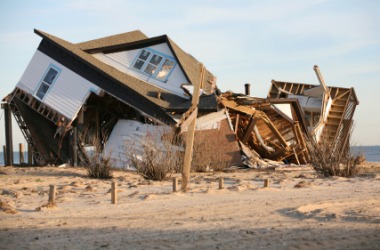 This house has been destroyed.
verb
To destroy is defined as to damage, ruin or spoil something beyond repair.

When you drive a truck into a house and totally demolish it, this is an example of a situation where you destroy the house.
---
destroy
to tear down; demolish
to break up or spoil completely; ruin
to bring to total defeat; crush
to put an end to; do away with
to kill
to neutralize the effect of
to make useless
Origin of destroy
Middle English
destroien
from Old French
destruire
from Classical Latin
destruere
from
de-
, down +
struere
, to build: see structure
to bring about destruction
---
destroy
verb
de·stroyed, de·stroy·ing, de·stroys
verb
transitive
To break apart the structure of, render physically unusable, or cause to cease to exist as a distinguishable physical entity: The fire destroyed the library. The tumor was destroyed with a laser.
To put an end to; eliminate: "In crowded populations, poverty destroys the possibility of cleanliness" ( George Bernard Shaw )
To render useless or ruin: felt that an overemphasis on theory had destroyed the study of literature.
To put to death; kill: destroy a rabid dog.
To subdue or defeat completely; crush: The rebel forces were destroyed in battle.
To cause emotional trauma to; devastate: The divorce destroyed him.
verb
intransitive
To be destructive; cause destruction: "Too much money destroys as surely as too little" ( John Simon )
Origin of destroy
Middle English
destroien
from
Old French
destruire
from
Vulgar Latin
dēstrūgere
back-formation from
Latin
dēstrūctus
past participle of
dēstruere
to destroy
dē-
de-
struere
to pile up
; see
ster-
2
in Indo-European roots.
---
destroy

Verb
(third-person singular simple present destroys, present participle destroying, simple past and past participle destroyed)
---