verb
To destroy is defined as to damage, ruin or spoil something beyond repair.

When you drive a truck into a house and totally demolish it, this is an example of a situation where you destroy the house.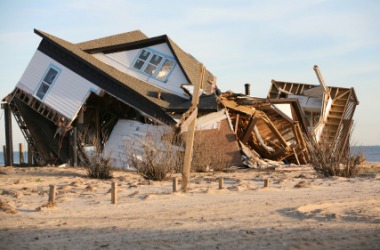 This house has been destroyed.
---
destroy definition by Webster's New World
transitive verb
to tear down; demolish
to break up or spoil completely; ruin
to bring to total defeat; crush
to put an end to; do away with
to kill
to neutralize the effect of
to make useless
Origin: Middle English destroien ; from Old French destruire ; from Classical Latin destruere ; from de-, down plush struere, to build: see structure
intransitive verb
to bring about destruction
Webster's New World College Dictionary Copyright © 2010 by Wiley Publishing, Inc., Cleveland, Ohio. Used by arrangement with John Wiley & Sons, Inc.
---
destroy definition by American Heritage Dictionary
verb
de·stroyed
,
de·stroy·ing
,
de·stroys
verb
, transitive
To ruin completely; spoil: The ancient manuscripts were destroyed by fire.
To tear down or break up; demolish. See Synonyms at ruin.
To do away with; put an end to: "In crowded populations, poverty destroys the possibility of cleanliness" (George Bernard Shaw).
To kill: destroy a rabid dog.
To subdue or defeat completely; crush: The rebel forces were destroyed in battle.
To render useless or ineffective: destroyed the testimony of the prosecution's chief witness.
verb
, intransitive
To be destructive; cause destruction: "Too much money destroys as surely as too little" (John Simon).
Origin: Middle English destroien, from Old French destruire, from Vulgar Latin *dēstrūgere, back-formation from Latin dēstrūctus, past participle of dēstruere, to destroy : dē-, de- + struere, to pile up; see ster-2 in Indo-European roots.