exterminate
ex·ter·mi·nate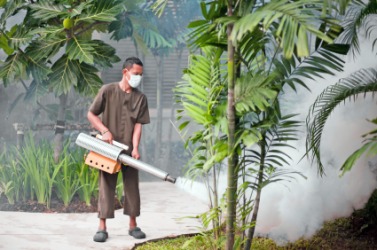 A man uses a fog to exterminate insects.
verb
Exterminate is defined as to destroy completely, or kill.

Having a pest-control service kill the ants in your home is an example of exterminate.
---
exterminate
transitive verb
-·nat·ed

,

-·nat·ing
to destroy or get rid of entirely, as by killing; wipe out; annihilate
Origin of exterminate
from Classical Latin
exterminatus
, past participle of
exterminare
, literally , to drive beyond the boundaries, hence drive out, destroy from
ex-
, out +
terminus
, boundary: see term
---
exterminate
transitive verb
ex·ter·mi·nat·ed, ex·ter·mi·nat·ing, ex·ter·mi·nates
To get rid of by destroying completely:
exterminated the termites that were weakening the wall.
See Synonyms at
annihilate
.
Origin of exterminate
Latin
extermināre
extermināt-
to drive out
ex-
ex-
termināre
to mark boundaries
(
from
terminus
boundary marker
)
Related Forms:
ex·ter′mi·na′tive ex·ter′mi·na·to′ry

adjective
---
exterminate

Verb
(third-person singular simple present exterminates, present participle exterminating, simple past and past participle exterminated)
To kill all of a population, usually deliberate and especially applied to pests.

We'll use poison to exterminate the rats.
Origin
From Latin exterminātus, perfect passive participle of exterminō, itself from ex- + terminō ("I finish, close, end") (from terminus ("limit, end")).
---