noun
The definition of a finish is a desired effect on a surface.

An example of a finish is lacquer.
verb
To finish is defined as to complete, use up or give the final touches to.

An example of to finish is completing a race.
An example of to finish is eating the last cookie.
An example of to finish is finding the spot for the last piece to a puzzle.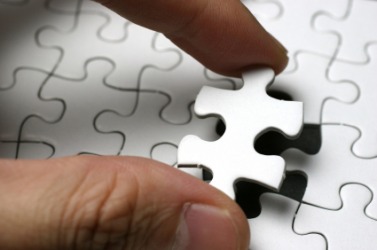 Placing the final piece to finish a puzzle.
---
finish definition by Webster's New World
transitive verb
to bring to an end; complete: to finish the work
to come to the end of: to finish a book

to use up; consume entirely: finish your milk
to give final touches to; embellish or perfect
to treat (a cut edge, esp. of a garment), as by pinking, serging, or binding, in order to prevent raveling
to give (cloth, leather, wood, etc.) a desired surface effect

to cause the defeat, collapse, death, etc. of
to render worthless, useless, helpless, etc.
Origin: Middle English finishen ; from extended stem of Old French finir ; from Classical Latin finire, to end ; from finis, an end, limit, origin, originally , boundary (post), something fixed in the ground ; from Indo-European base an unverified form dhīgw-, to stick in from source dike, Classical Latin figere, fix
intransitive verb
to come to an end; terminate
to complete something being done
to complete a contest in a specified position: to finish last
noun
the last part; end
anything used to give a desired surface effect, as paint, varnish, polish, wax, etc.
completeness; perfection
the manner or method of completion
the way in which the surface, as of furniture, is painted, varnished, smoothed, polished, etc.
refinement as in manners, speech, etc.; polish in social or cultural matters
defeat, collapse, etc. or that which brings it about; downfall
the taste a wine leaves in the mouth after it has been swallowed

Carpentry

joiner work, as the installation of doors, stairs, panels, etc., which completes the interior of a building
Webster's New World College Dictionary Copyright © 2010 by Wiley Publishing, Inc., Cleveland, Ohio. Used by arrangement with John Wiley & Sons, Inc.
---
finish definition by American Heritage Dictionary
verb
fin·ished
,
fin·ish·ing
,
fin·ish·es
verb
, transitive
To arrive at or attain the end of: finish a race.
To bring to an end; terminate: finished cleaning the room.
To consume all of; use up: finish a pie.
To bring to a desired or required state: finish a painting. See Synonyms at complete.
To give (wood, for example) a desired or particular surface texture.
To destroy; kill: finished the injured horse with a bullet.
To bring about the ruin of: The stock market crash finished many speculators.
verb
, intransitive
To come to an end; stop.
To reach the end of a task, course, or relationship.
noun
The final part; the conclusion: racers neck-and-neck at the finish.
The reason for one's ruin; downfall.
Something that completes, concludes, or perfects, especially:

a. The last treatment or coating of a surface: applied a shellac finish to the cabinet.

b. The surface texture produced by such a treatment or coating.

c. A material used in surfacing or finishing.

Completeness, refinement, or smoothness of execution; polish.
The flavor left in the mouth after wine has been swallowed.
Origin: Middle English finishen, from Old French finir, finiss-, to complete, from Latin fīnīre, from fīnis, end.
Related Forms:
The American Heritage® Dictionary of the English Language, 4th edition Copyright © 2010 by Houghton Mifflin Harcourt Publishing Company. Published by Houghton Mifflin Harcourt Publishing Company. All rights reserved.
---
finish - Phrases/Idioms
finish off
to end or complete
to kill or destroy
finish up
to end or complete
to consume all of
finish with
to end or complete
to end relations with; become indifferent to
in at the finish
being present or taking part at the conclusion, as of a contest