bear

bear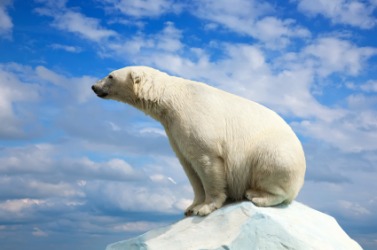 A large white polar bear.
noun
The definition of bear is a large mammal found in America and Eurasia which has thick fur or a big person or a person who is cranky and grumpy.

An example of a bear is a large, thick-furred white animal which lives in cold climates and enjoys swimming.
An example of a bear is a large, stocky man.
An example of a bear is a person who just woke up from a nap feeling irritable and snappy.

Bear is defined as slang for a task which is hard to accomplish.

An example of a bear is the process of doing a large presentation when one is sick with the flu.
verb
Bear means to give birth to, be able to cope with or hold up weight.

An example of bear is to have four children.
An example of bear is to hold oneself together and behave rationally in the face of a tragedy.
An example of bear is to support a heavy piece of timber while another person pounds it into the frame.
---
bear
transitive verb
bore

,

borne

or

born

,

bear′ing
to hold and take along; carry; transport
to hold in the mind: to bear a secret

to possess as a part, characteristic, attribute, etc.; have or show: the letter bore his signature
to give birth to: the passive past participle in this sense is born when by does not follow
to bring forth; produce or yield: fruit-bearing trees, coal-bearing strata
to support or hold up; sustain
to sustain the burden of; take on; take care of: to bear the cost

to undergo successfully; withstand; endure: her work won't bear scrutiny
to put up with; tolerate: she can't bear him

to call for; require: his actions bear watching
to carry or conduct (oneself)
to carry over or hold (a sentiment): to bear a grudge
to bring and tell (a message, tales, etc.)
to move or push as if carrying: the crowd bore us along
to give, offer, or supply: to bear witness
Origin of bear
Middle English
beren
from Old English
beran
from Indo-European base an unverified form
bher-
, to carry, bring from source Classical Latin
ferre,
Classical Greek
pherein,
Sanskrit
bharati
, (he) bears
to be productive: the tree bears well

to lie in a given direction: the lighthouse bears due east
to point or be aimed toward: with on or upon: artillery deployed to bear on the fort
to move in a given direction: bear right at the corner

to have bearing (on); have a relation: his story bears on the crime
to tolerate; put up patiently (with)
to be oppressive; weigh: grief bears heavily on her
bear a hand
to give help

Naut.

get to work! help out! work faster!
bear down
to press or push down; exert pressure
to make a strong effort
bear down on
to press down on; exert pressure on
to make a strong effort toward accomplishing
to come or go toward; closely approach
bear out
to show to be true; support or confirm
bear up
to endure, as under a strain; keep up one's spirits
bring to bear on
to cause to have an effect on: he brought his influence to bear on the lawmakers
noun
pl.

bears

or
any of a family (Ursidae) of large, heavy, omnivorous carnivores that walk flat on the soles of their feet and have shaggy fur and a very short tail: bears are native to temperate and arctic zones
a person who is clumsy, rude, gruff, churlish, etc.

Origin of bear

short for bearskin jobber < phr. to sell the bearskin, i.e., to sell the skin before the bear is caught an investor who sells stocks, commodities, etc. in the belief that their price will fall

Slang

a difficult task: checking these computer files is a real bear
Origin of bear
Middle English
bere
from Old English
bera
from Indo-European an unverified form
bheros
, brown animal from base an unverified form
bher-
, brown (from source brown, beaver, Classical Latin
fiber
): origin, originally euphemism for taboo name probably seen in Classical Latin
ursus
falling in price: a bear market
be a bear for punishment
to be able to withstand much rough treatment; be rugged, tough, determined, etc.
the Bear
the constellation Ursa Major or Ursa Minor
Bear
river flowing from the Uinta Mountains through Utah, Wyo., & Ida. into Great Salt Lake: c. 350 mi (563 km)
Origin of Bear
so named from the grizzly
bears
once abundant in the region
---
bear
verb
bore, borne,
or
born
bear·ing, bears
verb
transitive
a. To carry (something) on one's person from one place to another: bore the suitcase to the station.

b.

To move from one place to another while containing or supporting (something); convey or transport:

a train bearing grain.

See Synonyms at

carry

.

c. To cause to move by or with steady pressure; push: a boat borne along by the current.

d. To carry or hold in the mind over time; harbor: bear a grudge; bear ill will.

e. To have as a visible characteristic or attribute: a letter bearing his name.

To conduct (oneself) in a specified way: She bore herself with dignity.

a. To hold up; support: This wall bears much of the weight of the roof.

b. To be accountable for; assume: bearing heavy responsibilities.

c.

To have a tolerance for; endure:

couldn't bear his lying; can't bear to see them leave.

See Synonyms at

endure

.

d. To have grounds for; call for; warrant: This case bears investigation.

a. To give birth to: bore six children.

b.

To produce; yield:

plants bearing fruit.

See Synonyms at

produce

.

To offer; render: I will bear witness to the deed.
verb
intransitive
To yield fruit; produce: peach trees that bear every summer.
To have relevance or influence; apply: They studied how the relativity theory bears on the history of science.
To endure something with tolerance or patience: Bear with me while I explain what happened.

a. To extend or proceed in a specified direction: The road bears to the right at the bottom of the hill.

b. To be directed or aimed in a certain direction or at a target: The guns were brought to bear upon the approaching fleet.
Phrasal Verbs:
bear down
To exert muscular pressure downward, as in giving birth to a baby.To advance in a threatening manner:
The ship bore down on our canoe.
To apply maximum effort and concentration:
If you really bear down, you will finish the task.
bear out
To prove to be right or justified; confirm:
The test results bear out our claims.
bear up
To withstand stress, difficulty, or attrition:
The patient bore up well during the long illness.
Origin of bear
Middle English
beren
from
Old English
beran
; see
bher-
1
in Indo-European roots.
Usage Note: Thanks to the vagaries of English spelling, bear has two past participles: born and borne. Traditionally, born is used only in passive constructions referring to birth: I was born in Chicago. For all other uses, including active constructions referring to birth, borne is the standard form: She has borne both her children at home. I have borne his insolence with the patience of a saint.
noun
a. Any of various usually omnivorous mammals of the family Ursidae that have a shaggy coat and a short tail and walk with the entire lower surface of the foot touching the ground.

b. Any of various other animals, such as the koala, that resemble a true bear.

A large, clumsy, or ill-mannered person.

a. One, such as an investor, that sells securities or commodities in expectation of falling prices.

b. A pessimist, especially regarding business conditions.

Slang Something that is difficult or unpleasant: The final exam was a bear.
Slang A highway patrol officer.
Slang A hairy, stocky gay man.
adjective
Characterized by falling prices: a bear market.
Origin of bear
Middle English
bere
from
Old English
bera
; see
bher-
2
in Indo-European roots.
Sense 3, probably from the proverb
to sell the bear's skin before catching the bear
---
bear

Noun
(plural bears)
A large omnivorous mammal, related to the dog and raccoon, having shaggy hair, a very small tail, and flat feet; a member of family Ursidae, particularly of subfamily Ursinae.
(figuratively) A rough, unmannerly, uncouth person. [1579]
(finance) An investor who sells commodities, securities, or futures in anticipation of a fall in prices. [1744]
(slang, US) A state policeman (short for smokey bear). [1970s]
(slang) A large, hairy man, especially one who is homosexual. [1990]
Verb
(third-person singular simple present bears, present participle bearing, simple past and past participle beared)
Adjective
(not comparable)
(finance, investments) Characterized by or believing to benefit of declining prices in securities markets.

The great bear market starting in 1929 scared a whole generation of investors.
Origin
From Middle English bere, from Old English bera, from Proto-Germanic *berô (compare West Frisian bear, Dutch beer, German Bär, Danish bjørn).
This is generally taken to be from Proto-Indo-European *bʰer- ("shining, brown") (compare Tocharian A parno, B perne ("radiant, luminous"), Lithuanian bė́ras ("brown")), related to brown and beaver.
The Germanic languages replaced the older name of the bear, *rtko-, with the epithet "brown one", presumably due to taboo avoidance; compare Russian медведь (medvedʹ, "bear"), literally "honey-eater".
However, Ringe (2006:106) doubts the existence of a root *bʰer- meaning "brown" ("an actual PIE word of [the requisite] shape and meaning is not recoverable") and suggests that a derivation from Proto-Indo-European *ǵʰwer- ("wild animal") "should therefore perhaps be preferred", implying a Germanic merger of *ǵʰw and *gʷʰ (*gʷʰ results in Germanic *b regularly, e.g. in *bidjaną)
Verb
(third-person singular simple present bears, present participle bearing, simple past bore or (archaic) bare, past participle borne or (rare) born)
To carry something.
To be equipped with (something).

the right to bear arms

To wear or display.

The shield bore a red cross.

To put up with something.

I would never move to Texas—I can't bear heat.
Please bear with me as I ramble on and on about nothing very important, such as that time when I was in Montana and I may have seen a mountain lion, but it was pretty far off and it was raining—the weather, not the lion—and the car broke down...

To give birth to someone or something (may take the father of the direct object as an indirect object).

In Troy she becomes Paris' wife, bearing him several children, all of whom die in infancy.

(intransitive) To be, or head, in a specific direction or azimuth (from somewhere).

The harbour bears north by northeast.
By my readings, we're bearing due south, so we should turn about ten degrees east.
Great Falls bears north of Bozeman.

(intransitive) To suffer, as in carrying a burden.
(intransitive) To endure with patience; to be patient.
To press; with on, upon, or against.
To take effect; to have influence or force.

to bring matters to bear

To relate or refer; with on or upon.

How does this bear on the question?

To have a certain meaning, intent, or effect.
To possess and use (power, etc.); to exercise.
To possess mentally; to carry or hold in the mind; to entertain; to harbour.
Latimer:

She was […] found not guilty, through bearing of friends and bribing of the judge.

To sustain, or be answerable for (blame, expense, responsibility, etc.).
To carry on, or maintain; to have.
To admit or be capable of; to suffer or sustain without violence, injury, or change.
To manage, wield, or direct; to behave or conduct (oneself).
To afford; to be (something) to; to supply with.
Usage notes
The past participle of bear is usually borne:

He could not have borne that load.
She had borne five children.
This is not to be borne!

However, when bear means "to give birth to" (literally or figuratively), the passive past participle is born:

She was born on May 3.
Born three years earlier, he was the eldest of his siblings.
"The idea to create [the Blue Ridge Parkway] was born in the travail of the Great Depression […] ." (Tim Pegram, The Blue Ridge Parkway by Foot: A Park Ranger's Memoir, ISBN 0786431407, 2007, page 1)

Both spellings are used in the construction born(e) to someone (as a child):

He was born(e) to Mr. Smith.
She was born(e) to the most powerful family in the city.
"[M]y father was borne to a Swedish mother and a Norwegian father, both devout Lutherans." (David Ross, Good Morning Corfu: Living Abroad Against All Odds, ISBN 1452450323, 2009)

In the Middle English period, and rarely also today, the form "yborn" exist(ed).
Origin
From Middle English beren ("carry, bring forth"), from Old English beran ("to carry, bear, bring"), from Proto-Germanic *beraną, from Proto-Indo-European *bʰer-, *bʰére-. Akin to Old High German beran ("carry"), Dutch baren, Gothic (baíran), Latin ferre, and Ancient Greek φέρειν (pherein), Albanian bie ("to bring, to bear"), Russian брать (brat', "to take").
---
bear - Investment & Finance Definition
Someone who believes that the market will fall. Contrasts with a bull, who believes the opposite. See also bear market.
---