verb
Exert is defined as to put forth or into use with great energy.

An example of exert is to put lots of energy into exercising.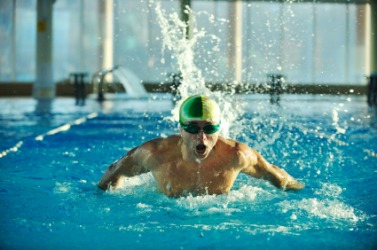 A swimmer exerts energy.
---
exert definition by Webster's New World
transitive verb
to put forth or use energetically; put into action or use: to exert strength, influence, etc.
to apply (oneself) with great energy or straining effort
Origin: Classical Latin exsertare, frequentative of exserere, to stretch out, put forth ; from ex-, out plush serere, to join, fasten together: see series
Webster's New World College Dictionary Copyright © 2010 by Wiley Publishing, Inc., Cleveland, Ohio. Used by arrangement with John Wiley & Sons, Inc.
---
exert definition by American Heritage Dictionary
transitive verb
ex·ert·ed
,
ex·ert·ing
,
ex·erts
To put to use or effect; put forth: exerted all my strength to move the box.
To bring to bear; exercise: exert influence.
To put (oneself) to strenuous effort: exerted ourselves mightily to raise funds.
Origin: Latin exserere, exsert-, to put forth, stretch out : ex-, ex- + serere, to join; see ser-2 in Indo-European roots.