noun
Exertion is defined as physical or mental effort, or to the use of force or influence.

Doing an extremely hard crossword puzzle that taxes your brain is an example of mental exertion.
When you exercise your authority and forbid someone from going to a party, this is an example of an exertion of your authority.
YourDictionary definition and usage example. Copyright © 2013 by LoveToKnow Corp.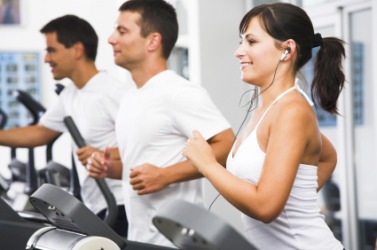 Exercise is exertion.
Licensed from iStockPhoto
---
noun
the act, fact, or process of exerting; active use of strength, power, etc.; exercise
energetic activity; effort
Webster's New World College Dictionary
Copyright © 2010 by Wiley Publishing, Inc., Cleveland, Ohio.
Used by arrangement with John Wiley & Sons, Inc.
---
noun
The act or an instance of exerting, especially a strenuous effort.
The American Heritage® Dictionary of the English Language
, 4th edition Copyright © 2010 by Houghton Mifflin Harcourt Publishing Company. Published by Houghton Mifflin Harcourt Publishing Company. All rights reserved.