while

while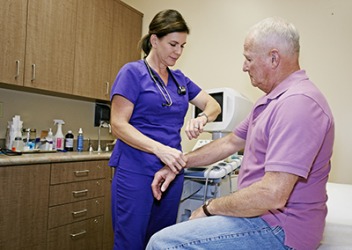 The nurse looks at the second hand on her watch while taking the patient's pulse.
conjunction
While is defined as during or in a certain time.

An example of while is cookies baking during the same time that caramel is being made on the stove top.
noun
While means a period of time.

An example of while is how long a person has to wait for to see the doctor.
---
while
a period or space of time: a short while
Origin of while
Middle English from Old English
hwil
, akin to German
weile
from Indo-European base an unverified form
kweye-
, to rest from source Classical Latin
quies
, quiet
during or throughout the time that: we waited while she dined
at the same time that: while you're up, close the door

although on the one hand: while he was not poor, he had no ready cash
whereas; and on the other hand: the walls are green, while the ceiling is white

North Eng., Archaic

until
North Eng., Archaic
until
transitive verb
whiled

,

whil′ing
to spend (time) in a pleasant way; cause to pass idly: often with away: to while away the afternoon
Origin of while
< whilethe noun, but meaning prob. infl. by
wile
between whiles
now and then; at intervals
the while
at the same time; during this very time
worth someone's while
worth someone's time, consideration, etc.; profitable in some way
---
while
noun
A period of time: stay for a while; sang all the while. See Usage Note at awhile.
The time, effort, or trouble taken in doing something: The project wasn't worth my while.
conjunction
As long as; during the time that: It was lovely while it lasted.
In spite of the fact that; although: While that guitar may look nice, it's not a very good instrument.
And on the contrary: The soles are leather, while the uppers are canvas.
transitive verb
whiled, whil·ing, whiles
To spend (time) idly or pleasantly: while the hours away.
Origin of while
Middle English
from
Old English
hwīl
; see
kweiə-
in Indo-European roots.
Usage Note: As a conjunction, while is used to indicate that two events are happening at the same time ( While I was preparing the hamburger patties, she sliced the onions and tomatoes ), but it can also be used to contrast two clauses in a nontemporal way ( While the "h" is silent in the word "honest," it is pronounced in the word "hostile" ). While has been used in this nontemporal sense for hundreds of years, and the latter sentence was judged acceptable by 75 percent of the Usage Panel in our 2012 survey. The Panel was somewhat less accepting, however, of this use of while in a sentence where it could potentially be misread as having a temporal meaning (31 percent disapproved of the sentence She said she wanted to go to a movie, while he proposed seeing a play ). And 43 percent disapproved of a sentence in which the two contrasting clauses are explicitly not simultaneous: While the Tigers beat the Cubs last week, this week the Cubs beat the Tigers. To avoid ambiguity or an unintended suggestion of simultaneity, choose a different conjunction, such as although or whereas.
---
while

---