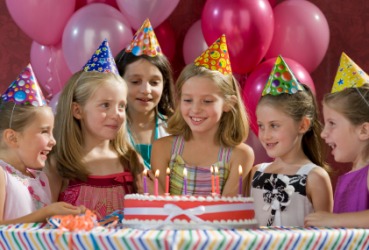 A little girl celebrates the occasion of her birthday.
noun
Occasion is a special event or a specific time when something is possible or when something will happen.

An example of an occasion is a birthday.
---
occasion
a favorable time or juncture; opportunity
a fact, event, or state of affairs that makes something else possible: a chance meeting was the occasion of the renewal of their friendship
a cause or reason: you have no occasion to be angry

a happening; occurrence
the time at which something happens; particular time: on the occasion of our last meeting

a special time or event, suitable for celebration
need arising from circumstances
[pl.]

Obs.

needs; requirements

Archaic

affairs; business
Origin of occasion
Middle English
occasioun
from Old French from Classical Latin
occasio,
accidental opportunity, fit time from
occasus,
past participle of
occidere,
to fall from
ob-
(see ob-) +
cadere,
to fall: see case
to be the occasion of; give occasion to; cause
on occasion
once in a while; sometimes; occasionally
rise to the occasion
to do whatever suddenly becomes necessary; meet an emergency
take (the) occasion
to use the opportunity (to do something)
---
occasion
noun
An event or happening, or the time of an event or happening: On several occasions, we saw him riding a motorcycle.
A significant event, especially a large or important social gathering: The reception proved to be quite the occasion.
A favorable or appropriate time or juncture: saw the layoff as an occasion to change careers. See Synonyms at opportunity.

a.

A cause of or reason for something:

a trade disagreement that furnished the occasion for war.

See Synonyms at

cause

.

b. A need created by a particular circumstance: "He must buy what he has little occasion for" ( Laurence Sterne )

occasions Archaic Personal requirements or necessities.
transitive verb
oc·ca·sioned, oc·ca·sion·ing, oc·ca·sions
To provide occasion for; cause: "The broadcast and its immediate aftermath occasioned a cascade of media commentary" ( Lewis Sorley )
Origin of occasion
Middle English
from
Old French
from
Latin
occāsiō
occāsiōn-
from
occāsus
past participle of
occidere
to fall
ob-
down
; see
ob-
.
cadere
to fall
; see
kad-
in Indo-European roots.
---
occasion

Noun
(plural occasions)
A favorable opportunity; a convenient or timely chance. [from 14th c.]
The time when something happens.

At this point, she seized the occasion to make her own observation.

An occurrence or state of affairs which causes some event or reaction; a motive or reason. [from 14th c.]

I had no occasion to feel offended, however.

Something which causes something else; a cause. [from 14th c.]
A particular happening; an instance or time when something occurred. [from 15th c.]

I could think of two separate occasions when she had deliberately lied to me.

Need; requirement, necessity. [from 16th c.]

I have no occasion for firearms.

Jeremy Taylor

after we have served ourselves and our own occasions

Burke

when my occasions took me into France

A special event or function. [from 19th c.]

Having people round for dinner was always quite an occasion at our house.

A reason or excuse; a motive; a persuasion.
Verb
(third-person singular simple present occasions, present participle occasioning, simple past and past participle occasioned)
Origin
From Old French ocasion, from Latin occasionem (accusative of occasio), noun of action from perfect passive participle occasus, from verb occido, from prefix ob- ("down", "away") + verb cado ("fall").
---