opening

o·pen·ing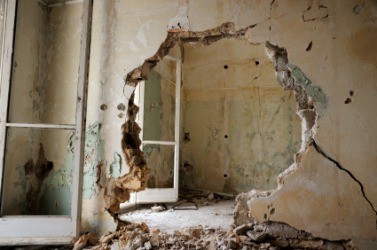 An opening in a wall.
noun
The definition of an opening is the first part in a series, a hole, or an opportunity.

An example of an opening is the first round of credits that come up at the beginning of a movie.
An example of an opening is a hole through a wall.
An example of an opening is a job for a web designer that is advertised on Craig's List.
---
opening
a becoming open or causing to be open
an open place or part; hole; gap; aperture
a clearing in the midst of a wooded area

a beginning; first part; commencement
start of operations; formal beginning
a first performance, as of a play

a favorable chance or occasion; opportunity
an unfilled position or office for which a person is wanted
the series of moves at the beginning of a game, often a specific, conventional sequence of moves
Origin of opening
Middle English
openyng
initial or introductory: opening remarks
---
opening
noun
The act or an instance of becoming open or being made to open: the opening of the tomb.

a. A gap, breach, or aperture: slipped through an opening in the hedge.

b. A clearing in the woods.

a. The first part or stage, as of a book.

b. The first performance: the opening of a play.

c. A formal commencement of operation: attended the opening of the new museum.

d. A specific pattern or series of beginning moves in certain games, especially chess.

a.

An opportunity affording a chance of success. See Synonyms at

opportunity

.

b. An unfilled job or position; a vacancy.
---
opening

Verb
Present participle of open.
Noun
(plural openings)
An act or instance of making or becoming open.

The daily openings of the day lily bloom gives it its name.
He remembered fondly the Christmas morning opening of presents.

Something that is open.

A salamander darted out of an opening in the rocks.
He slipped through an opening in the crowd.

An act or instance of beginning.

There have been few factory and store openings in the US lately.
Their opening of the concert with Brass in Pocket always fires up the crowd.

Something that is a beginning.

The first performance of a show or play by a particular troupe.

They were disappointed at the turnout for their opening, but hoped that word would spread.

The initial period a show at an art gallery or museum is first opened, especially the first evening.
The first few measures of a musical composition.

A vacant position, especially in an array.

Are there likely to be any openings on the Supreme Court in the next four years?

A time available in a schedule.

If you'd like to make a booking with us, we have an opening at twelve o'clock.
The only two-hour openings for the hockey rink are between 1AM and 5AM.

An unoccupied employment position.

We have an opening in our marketing department.

An opportunity, as in a competitive activity.
---