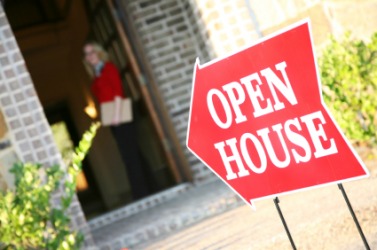 A realtor waits at the door of an open house.
noun
The definition of an open house is an opportunity where a home, school or other normally restricted area opens its doors and allows people to visit for a period of time.

When you are trying to sell your home and you schedule a time between 1 and 4 PM on a Sunday for people to come and walk through the house, this is an example of an open house.
---
open house
an informal reception at one's home, with visitors freely coming and going
an occasion when a school, institution, etc. is open to visitors for inspection and observation of activities
---
open house
noun
A social event in which hospitality is extended to all.
An occasion when a school or institution is open for visiting and observation by the public.

a. A period of time during which a house or apartment for sale or rent is held open for public viewing.

b. A house or apartment open for such viewing.
---
open-house

Noun
(plural open houses)
A house habitually kept open to callers.
An event, often in one's home, at which there are few restrictions regarding who and how many may attend.
An event during which a facility or institution is open to the public for inspection or tour.
(chiefly US, Australia) A period of time, usually several hours in a day, during which a house which is for sale is open for inspection or tour by interested parties.

We"²re holding an open house this weekend at 77 Parkway Road.

(US) A casual school event where the school invites parents or guardians to come and tour their child's school, classrooms, and allow them to meet their child's teachers.
---