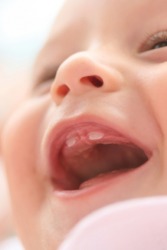 The mouth is an orifice.
noun
The definition of an orifice is an opening, especially an opening to the body or the opening of a tube or pipe.

The mouth is an example of an orifice.
---
orifice
a mouth or aperture of a tube, cavity, etc.; opening
Origin of orifice
French from Late Latin
orificium
from Classical Latin
os
(gen.
oris
), a mouth (see oral) +
-ficere
from
facere,
to make, do
---
orifice
noun
An opening, especially to a cavity or passage of the body; a mouth or vent.
Origin of orifice
Middle English
from
Old French
from
Late Latin
ōrificium
Latin
ōs
ōr-
mouth
; see
ōs-
in Indo-European roots.Latin
-ficium
a making, doing
(
from
facere
to make
; see
dhē-
in Indo-European roots.)
Related Forms:
---
orifice

Origin
Middle English, from Old French, from Late Latin orificium ("an opening, literally the making of a mouth"), compound of os ("mouth") + facere ("to make")
---